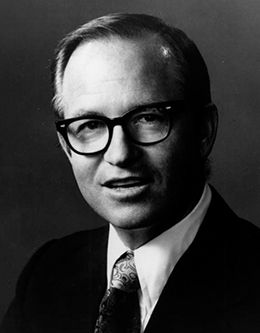 John K. Carmack
From a very young age, John K. Carmack had a testimony of his personal relationship with God. This relationship motivated him to draw closer with God in everything he did. This principle has guided him through his life, making it possible for him to serve in a multitude of different ways. As a young man, he served as a full-time missionary in the West Central States mission. Upon his return, he came to BYU to pursue his degree. He graduated from BYU in 1955. He then served in the military in Korea for two years before returning to the United States. He then earned his JD at the University of California, Los Angeles. He met his wife while attending school, and they are happily married with five children.
Elder Carmack has served in a variety of different leadership positions within the Church, including public communications council chairman, bishopric member, stake high council member, counselor in stake presidencies, stake president of the Los Angeles California Stake, and Regional Representative for the Church. He was serving as president of the Idaho Boise Mission when he was called to be a member of the First Quorum of the Seventy.
His roles outside of the Church are just as impressive as his roles within. He has served as chairman of the board of the West Los Angeles Chamber of Commerce, president of the Westwood Bar Association, a member of the Los Angeles executive council for the Boy Scouts of America, and as president-elect of the BYU Alumni Association. He has also served as the managing director of the Perpetual Education Fund.
Elder Carmack uses his influence to testify of his knowledge of the Savior. His addresses at BYU discuss this topic and help students feel the power of the Savior's redeeming love.
---
---