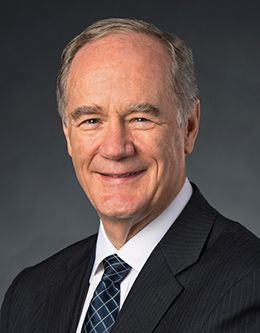 John S. Tanner
Ever since he was a child, John S. Tanner has been well acquainted with the joys of learning. He considers this love a "gift from his parents" and has said that he "feels most alive when teaching and learning." This passion propels him in his academic and religious endeavors and has given him the opportunity to serve others as a professor, as a counselor in the Sunday School general presidency, and as the president of BYU–Hawaii.
John S. Tanner was born on July 27, 1950. As the fifth of 13 children, he was very familiar with sacrifice and hard work. These virtues became themes in his life and served as the groundwork for many of his accomplishments.
Brother Tanner served a mission in southern Brazil and then attended Brigham Young University, graduating with a bachelor of arts in English in 1974. While attending BYU he met Susan Winder. Before they began dating, the two shared a strong friendship that they feel serves as a solid foundation for their relationship. They were married in the Salt Lake Temple in 1974 and are the proud parents of five children. Brother Tanner continued his schooling and went on to receive a doctorate in English from the University of California, Berkeley. In order to support his family during this time, he would go to school during the day and study at night while working security jobs. His decision to receive his PhD despite the instability of the job market in his chosen field of study was driven by his passion for great literature and great ideas.
After beginning his academic career as a professor of English at Florida State University, he soon made the transition to become a member of the BYU faculty. There he worked as a professor of English and later as the associate academic vice president for undergraduate and international education. During his tenure in this position, President Tanner developed the Freshman Academy program, a system designed to help new freshmen successfully accomplish the transition into life at BYU. He also coauthored the current university policy on academic freedom. President Tanner went on to serve as chair of the BYU English Department from 1998 to 2003 and became academic vice president of BYU in 2004. His contributions to BYU have led to improvements in the university's environment, teaching, and scholarship.
As a scholar, President Tanner's achievements include receiving the Best Book Award from the Milton Society of America for his book entitled Anxiety in Eden, contributions to the Encyclopedia of Mormonism, and two terms as president of the Association for Mormon Letters. He has published numerous articles about literature and religion and, as a lover of music and poetry, authored the hymn "Bless Our Fast, We Pray."
President Tanner has fulfilled numerous Church callings throughout his life, including bishop, stake president, Gospel Doctrine teacher, and mission president of the Brazil São Paulo South Mission. While serving as mission president, President Tanner received the call to become first counselor in the Sunday School General Presidency, a position which he stepped into upon the conclusion of his three-year service in Brazil. His service in the Sunday School General Presidency ended in 2015 when he was invited to serve as the president of BYU–Hawaii.
Throughout all of his assignments, President Tanner has tried to be a teacher before all else. His passion for gaining and sharing knowledge continues to bless the lives of all those he serves.
---
---