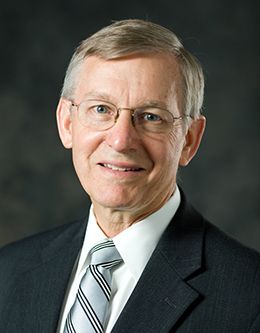 John W. Welch
John W. Welch, born in 1946, is the Robert K. Thomas Professor of Law in BYU's J. Reuben Clark Law School. He is an LDS religion and law scholar who is credited with discovering the many instances of the ancient literary form of chiasmus in the Book of Mormon, a realization he had as a young missionary in Germany. His finding was reported in the article "Chiasmus in the Book of Mormon" and published in BYU Studies in 1969. This discovery and subsequent further studies have shaped scholarly and linguistic study of the origin of the Book of Mormon.
Professor Welch received his bachelor's degree in history and his master's degree in Latin and Greek, both from Brigham Young University. He then studied at Oxford and later received his JD from Duke University. In 1979 he founded the Foundation for Ancient Research and Mormon Studies (FARMS) while working as a lawyer in southern California. He was editor-in-chief of the periodical BYU Studies and has served as a contributing author for the Joseph Smith Papers project, editor for the Encyclopedia of Mormonism, and director of publications for the Joseph Fielding Smith Institute for Latter-day Saint History.
Throughout Professor Welch's 40 years of work and research in law, classical languages, and biblical commentary, he has been the author and co-author over 100 books and book chapters, more than 30 journal articles, and several transcripts and multimedia publications. He has also served twice as bishop and as a counselor in the BYU 14th Stake presidency. He is married to Jeannie Sutton, and together they have four children. His devotional addresses at BYU focus on learning the lessons of the Book of Mormon with not only our minds, but also our hearts.
---
---