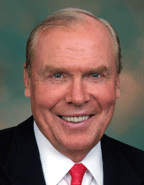 Jon M. Huntsman Sr.
Jon M. Huntsman Sr. is founder and Chairman of Huntsman Corporation, a global manufacturer and marketer of chemical products that produces more than 15,000 items ranging from computers to paint to toys to automobiles.
Elder Huntsman earned his undergraduate degree at The Wharton School of Business at the University of Pennsylvania and sub­sequently earned an MBA from the University of Southern California. He has received 13 honorary doctor­ate degrees at various universities.
Elder Huntsman has served in most ward and stake callings and was president of the Washington D.C. Mission from 1980 to 1983. After serving for three years as a regional representative, he was called by President Gordon B. Hinckley to serve as an Area Seventy in June 1996. He serves as a member of the Fifth Quorum of the Seventy.
Widely recognized as one of America's foremost concerned citizens and philanthropists, Elder Huntsman, along with his wife, Karen Haight Huntsman, founded the Huntsman Cancer Institute in 1995 to accelerate the work of cur­ing cancer through human genetics. The institute is now one of America's major cancer research centers dedi­cated to finding a cure for cancer, as well as a state-of-the-art hospital treating cancer patients.
Elder Huntsman married his high school sweetheart, daughter of the late Elder David B. and Sister Ruby Haight. Elder and Sister Huntsman are the parents of nine children, with many grandchildren and great-grandchildren.
if ($speaker_bio) { ?>
Show More
} ?>
Talks by
if ($audio_link !== '' && $audio_link) { ?>

the_icon_circled__download(esc_url($audio_link) . ' download'); ?>

} else { ?>

the_icon_circled__download(false); ?>

} ?>