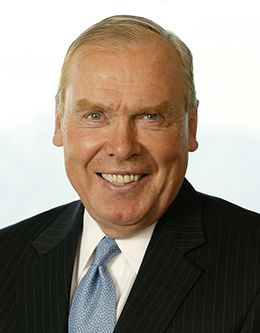 Jon M. Huntsman Sr.
Jon M. Huntsman Sr. grew up poor in rural Idaho, but throughout his lifetime he amassed a fortune large enough secure his status as the wealthiest man in Utah. However, it is not Huntsman's riches, but his determination to "die broke" through philanthropic efforts, that the world has really admired.
Jon Meade Huntsman was born on June 21, 1937, to Alonzo Blaine and Sarah Kathleen Robison Huntsman. In 1950 the Huntsman family relocated to Palo Alto, California, so Alonzo could obtain his graduate degrees at Stanford University. While in California, Jon attended Palo Alto High School and, due to his diligent academic efforts, he was rewarded a scholarship to attend the prestigious Wharton School of the University of Pennsylvania.
During his freshman and sophomore years at Wharton, Huntsman struggled academically because he wasn't applying himself to the required rigorous studies. One day his father suggested that he change majors and attend a less demanding college. Of that experience, Huntsman says, "I thought about taking an easier route and remembered the wise statement a radio commentator had recently made. He stated, 'Difficulty is one excuse history has never accepted.'" Realizing that he had to work hard and persevere to achieve his dreams, Huntsman returned to Wharton and graduated with the university's highest honors.
In June 1959 Huntsman married Karen Haight, the daughter of LDS apostle David B. Haight, and the next month he left to serve two years as a gunnery officer in the U.S. Navy. He then earned an MBA from the University of Southern California's Marshall School of Business.
Huntsman's first job was at an egg-packaging company in Los Angeles. He realized that the cardboard used to package the eggs was causing substantial losses to the company and hypothesized that a plastic egg carton made of a type of plastic called polystyrene might do a better job. He was right, and he oversaw the development of the first plastic egg carton. Due to the success of the egg cartons, Huntsman founded his own container company in 1971, Huntsman Chemical Corporation (now the Huntsman Corporation) in Salt Lake City, Utah. The company manufactures a variety of consumer goods, from textiles and dyes to McDonald's famous clamshell containers. Huntsman also made a project of buying several downtrodden companies and turning them around into successful businesses. In 2007 Huntsman co-founded a new private equity firm, Huntsman Gay Global Capital. According to Forbes, Huntsman has acquired a net worth of $1.16 billion dollars through his various business ventures.
"For me, the true measure of success is not how much wealth you acquire but how much of it you give back," says Huntsman. He has signed the Giving Pledge, in which billionaires promise to donate half of their fortune, but Huntsman says that he aims to give all of his money away—he's already donated approximately $1 billion to charity. "I'm just a temporary trustee of these funds," Huntsman says. He asserts that if he "dies broke," it is humanity who will have benefitted. Huntsman has donated money to schools, funded scholarships, assisted Armenia in the wake of a devastating earthquake, and financed cancer research. Many members of his family have passed away from cancer and he himself has suffered through four bouts of the illness; he founded and funded the Huntsman Cancer Institute at the University of Utah, one of the world's leading institutions dedicated to finding a cure for cancer.
In addition to his philanthropy, Huntsman was also a civil servant involved in politics and a dedicated tool in the hands of the Lord. He joined the Nixon Administration as associate administrator of the Department of Health, Education, and Welfare, and he served as special assistant and staff secretary to President Nixon himself. He was a chairman for both Ronald Reagan's and George H. W. Bush's presidential campaigns and the first ambassador for economic development for the state of Utah in 1988. In the ecclesiastical realm, Huntsman served in ward and stake callings and was the president of the Washington D.C. Mission from 1980 to 1983. He was then called as an area seventy in June 1996 and served in the Fifth Quorum of the Seventy.
Jon M. Huntsman Sr. delivered a devotional address at Brigham Young University that encouraged students to accomplish their dreams by means of a strong work ethic and even stronger morals. "Believe in yourself, and between you and the Lord your dreams can and will come true, and in pursuit of your dream, never, never forget others," Huntsman said. These words of wisdom have governed his own life of tenacity and charity.
John M. Huntsman Sr. passed away February 2, 2018. He and Kathleen have nine children and 56 grandchildren.
---
---