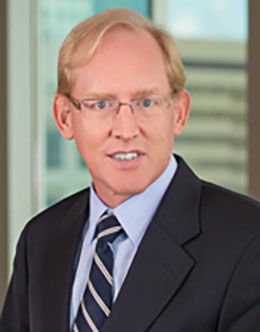 Jonathan O. Hafen
Jonathan O. Hafen was appointed the BYU Alumni Association President in 2018. A proud alumnus himself, President Hafen graduated from BYU with a BA in English and a JD in law. His time at BYU honored the legacies of his parents and grandparents before him, who attended BYU in their youth. While at BYU, he met his wife, Joy. They both attended what they believed was to be a group hike up to the Y only to discover that no one else would show up. From that point, their friendship blossomed and now their legacy has brought some of their children to BYU as well. President Hafen brought his pride for his BYU roots and a powerful vision of what the Alumni Association can become when he was appointed president.
Before becoming president of the BYU Alumni Association, President Hafen practiced law at Parr Brown. He is well-known for his competency in his field and has published a wide array of papers and articles regarding different aspects of law during his time practicing. He has also lectured many times on the different aspects of law.
President Hafen's commencement addresses at BYU have inspired graduates. He encouraged them to strengthen the connections they made while attending college at such a unique university. His discussion of the different mentors he met during his time on campus holds crucial relevance for recent graduates who are looking to receive support now to be able to give support to others later. By taking his experiences with those he looked up to and using them properly, President Hafen was able to achieve many of his life dreams and goals. He encourages students to be active participants of their local alumni chapters so that they may use the connections they make for good. President Hafen's powerful message of connectivity resonates with students and encourages them to achieve their dreams.
---
---