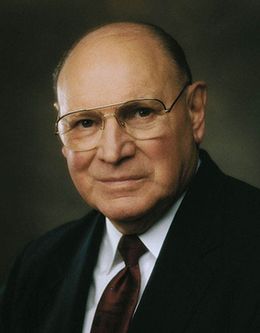 Joseph B. Wirthlin
When Joseph B. Wirthlin was a child, he learned the value of compassion and service. During the time of the Great Depression, his father would load up Elder Wirthlin's red coaster wagon with food for the needy and have him deliver it to their neighbors. He would go around and make deliveries, and when his wagon was empty, he would return to his father for more. In an Ensign article, Elder Wirthlin commented on the fact that "What people think and believe and plan are all very important, but what they do is the thing that counts most." This principle of actionable service was the framework for his life.
Born on June 11, 1917, Elder Wirthlin was the oldest of five children. He grew up with a busy and productive schedule and could always be found helping out with his father's wholesale and retail food business, caring for the family's rabbits and chickens, or working as a janitor or delivery boy. He also participated in athletics and was an active member of the Church throughout his youth.
After playing football in high school, Elder Wirthlin went on to become a running back for the University of Utah. He played during his freshman, sophomore, and junior years, and then, even though it meant leaving his football career behind, he left the University of Utah for a time to serve in the German and Austrian Mission. He remained in Germany and Austria from 1936 to 1939, returning home just before the outbreak of World War II.
Elder Wirthlin's missionary service was very influential in his life. One evening, he and his companion engaged in a serious discussion about what they wanted to do with their lives. Elder Wirthlin made goals that night and contemplated the type of woman that he wanted to marry. After returning home from his mission, he knew as soon as he laid his eyes on Elisa Rogers in the doorway of her home that she would be his wife. They were sealed in the Salt Lake Temple in 1941.
Although he never played football for the University of Utah again, Elder Wirthlin returned to school and completed his education, graduating with a degree in business administration. He spent his career as a prominent business leader and as president of a trade association in Utah. He later received an honorary doctorate degree from Brigham Young University.
In the Church, Elder Wirthlin served as a bishop, high councilor, and counselor in the Sunday School General Presidency. In 1975, he was called as assistant to the Quorum of the Twelve, and later as an area supervisor for the Europe Area and executive administrator for the Southeast Area of the United States and Caribbean Islands. He also served as executive administrator for Brazil, as president of the Europe Area of the Church, and as a member of the Church Board of Education. Elder Wirthlin was then called to serve as a member of the Presidency of the Seventy, and very shortly thereafter was called to the Quorum of the Twelve. After serving as an apostle for twenty-two years, Joseph B. Wirthlin passed away on December 1, 2008.
Elder Wirthlin gave many addresses at BYU, encouraging his audience to be grateful for their blessings and trials, to choose the right, and to make something out of the life they have been given. His personal mantra, "Come what may and love it," has reminded all to find joy in life's trials.
---
---