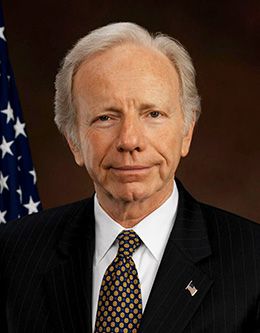 Joseph Lieberman
For Joseph Isadore Lieberman, born February 24, 1942, in Stamford, Connecticut, religion has always been a major part of life. Born to Henry and Marcia Manger Lieberman and raised in an Orthodox Jewish home, he has always observed Shabbat and kept a kosher home, even while serving as a Connecticut senator and in other offices. Staunch religious observance may seem at odds with the American political arena, but in Lieberman's opinion, the fact that he, a Jewish American, can be elected in a predominantly Protestant country is the very embodiment of American ideals.
In 1964 Joseph Lieberman earned a bachelor's degree in both political science and economics from Yale University, making him the first member of his family to receive a college degree. Three years later, Lieberman received his LLB from Yale Law School and began working for the law firm Wiggin & Dana LLP.
Joseph Lieberman began his political career in 1970 when he was elected to the Connecticut State Senate. He served in that capacity for ten years and then, after a brief return to private legal practice, served as Connecticut's Attorney General from 1983 to 1988. He became the first Orthodox Jew to serve in the U.S. Senate when he was elected in 1988 and again in 1994 and 2000. A Democrat, Lieberman was known for advocating for public schools, higher education, affordable health care, and efforts to create the Department of Homeland Security.
In 2000 then-vice president Al Gore chose Joseph Lieberman to be his running mate in the presidential race, the first time a Jewish American has ever been nominated for national office. The Gore–Lieberman ticket won the popular vote but lost the electoral college vote to George W. Bush and Dick Cheney. Of this election, Lieberman said, "Our ticket was judged on the basis of our qualifications and policies and most definitely not on the basis of my religion, because my religion is different." He went on to say that although Americans are vastly diverse and have different religious practices, "those practices were set aside because of all we shared and also because of our national ideals of religious freedom and because we had no religious tests for public office." This was evidence, he said, of the religious freedom enjoyed in America by believers and nonbelievers alike.
Lieberman attempted to receive the Democratic nomination for the 2004 presidential election but withdrew from the race. Two years later, in 2006, he was reelected to the United States Senate as an Independent Party member. He retired from the Senate in 2013.
In his forum address at Brigham Young University, Joseph Lieberman spoke about the American values that founded the country, ensuring its inhabitants a "freedom of religion, not freedom from religion" in both personal lives and the public square.
Joseph Lieberman resides in Connecticut with his wife, Hadassah. The couple has one daughter together and two sons and a daughter from their previous marriages.
---
---