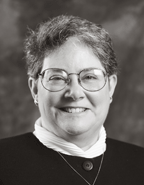 Juliana Boerio-Goates
Dr. Juliana Boerio-Goates received her elementary, high school, and undergraduate educa­tion at Catholic schools, graduat­ing with a BA in chemistry from Seton Hill College in Greensburg, Pennsylvania, in 1975. Her gradu­ate study was completed at the University of Michigan, where she received an MS in chemistry in 1977 and a PhD in 1979. She has done postgraduate study at Argonne National Laboratory, MIT, and Oxford University.
She was appointed to the fac­ulty at BYU in 1982. She taught chemistry classes at all levels, from introductory to graduate, and was involved in teaching and curriculum devel­opment for the Physical Science 100 course. She fulfilled many influential university assignments and received university and college teaching awards and recognition for her research efforts from pro­fessional organizations.
Dr. Boerio-Goates has pub­lished about 80 technical papers and coauthored two technical books. Her research efforts were directed toward understanding the factors that give rise to phenomena in crystalline sol­ids including magnetism, negative thermal expansion, and structural phase transitions as well as to the stability of biological materials.
Dr. Boerio-Goates' husband, Steven, was also a professor in BYU's Department of Chemistry and Biochemistry.
---
---