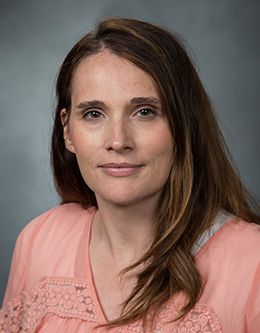 Julianne H. Grose
Dr. Julianne Grose has dedicated her academic career to studying the purpose and place of glucose allocation and bacteriophages, which are viruses that can infect and kill bacteria. Of herself Grose has said, "My great academic interest in life has been biology. I am not certain if it stems from my love of the outdoors, or the fact that I was raised as one of ten children in a house teeming with life." Whatever the cause, Grose took her passion for biology to the University of Utah where she graduated with a bachelor of science in 1994 and a PhD in 2003. She remained at the University of Utah as a postdoctoral research fellow in the Department of Biochemistry until 2008 when she joined the BYU faculty as a tenure-track assistant professor in the Department of Microbiology and Molecular Biology.
Grose currently teaches a variety of biology classes on BYU campus. Her long-term goals as a professor are to mentor students in the classroom and lab through high quality research experiences and contribution to novel scientific findings to her fields of study. She is a published author and a sought-after presenter.
While Grose's academic achievements are remarkable, her character and generosity ought not to go unnoticed. After her brother-in-law passed away from cancer, Grose made the decision to become a registered bone marrow donor. She had the opportunity to be a donor for a child with cancer.
Grose and her husband are the parents of three children. She serves in what she considers the best calling in the whole Church: primary teacher. In her BYU devotional she bore her testimony of the power of prayer. "What I do know," she said, "is that when we rely on our Savior and ask for His help, He will help us and we can have our 'peace be as a river, and our righteousness as the waves of the sea' as Isaiah has written."
Show More