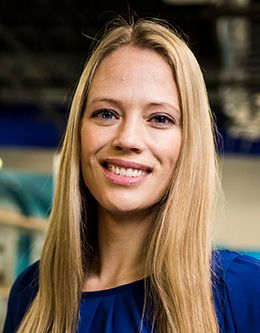 Julie Crockett
Julie Crockett, an associate professor of mechanical engineering at Brigham Young University, has always enjoyed being a little different. At six feet tall, she tends to stand out, but her intellect and personality make her stand out even more.
Growing up, Julie Crockett was fascinated with building things. This fascination was later paired with a love of math; her volleyball teammates sometimes laughed at her for being a "nerd" as she worked on calculus homework on the way to games. These two passions—math and building things—led her into the world of engineering.
Julie Crockett earned a BS in mechanical engineering from the University of Denver in 2002, followed immediately by an MS and PhD degree from the University of California, San Diego. Her PhD research focused on fluid mechanics, analyzing the energy propagation of deep-water ocean waves. This research interest followed her to the mechanical engineering department of BYU, where she teaches courses in fluid mechanics and thermodynamics. Two of her main research foci have received national attention—in her work with environmental flows, she pinpointed "internal waves" as a variable unaccounted for in meteorology prediction. She is also performing research on superhydrophobic (extremely waterproof) surfaces, which could have significant implications for many industries. Dr. Julie Crockett involves many graduate and undergraduate students in her research, combining scholarship with inspiring teaching.
In recent years, Dr. Julie Crockett's contribution to the fields of mechanical engineering and education has been recognized in various ways. In 2016, she was named the BYU Alice Louise Reynolds Women-in-Scholarship Lecturer, and she has been nominated for the Utah Engineering Educator of the Year Award for 2018. Dr. Crockett frequently takes opportunities to inspire young engineering students and prospective students, especially women and girls. She also teaches a Sunday School class for 17-year-olds in her ward of The Church of Jesus Christ of Latter-day Saints.
Julie Crockett's vibrant sense of humor, keen intellect, and strong testimony of the gospel combine in a powerful way in her devotional address given at BYU, in which she invites us to embrace our unique differences as we strive to acquire Christlike attributes.
---
---