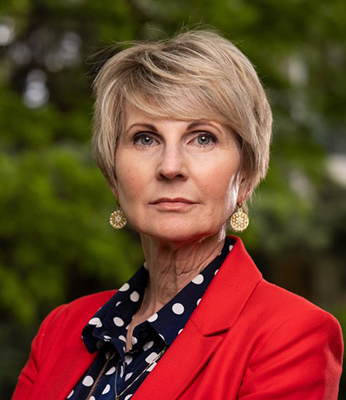 Julie L. Valentine
Dr. Julie L. Valentine is a professor and the associate dean of undergraduate studies and research in BYU's College of Nursing. She has been an associate professor at BYU since 2011 and was appointed associate dean in 2020. Dr. Valentine received a bachelor's degree in nursing from the University of Arizona and a master's degree in nursing education from the University of Utah. She obtained her PhD from Duquesne University while she and her husband, Mark, raised their large family. During and after her higher education years, Dr. Valentine has worked as a nurse case manager, an assistant professor at Westminster, and a forensic nurse specialist at Primary Children's Hospital and Wasatch Forensic Nurses, where she still works.
Dr. Valentine's work as a forensic nurse uses touch DNA to help law enforcement officers and healthcare providers identify perpetrators of sexual assault. The big breakthrough in her work came in 2011. Forensic scientists had already been working on this identification process, but not many knew about it and sexual assault kits were severely underutilized. After one nurse collected as much evidence as she could from a woman who had been violently groped, law enforcement officers were able to move forward with her case which wouldn't have happened otherwise. "Inspired by that outcome, Valentine teamed up with forensic nurses and forensic scientists, supported by the National Institute of Justice and its Forensic Technology Center of Excellence (administered through an award to RTI International), to design a standard form for Utah sexual assault medical examiners to collect touch DNA evidence from survivors' skin and clothing. The form now serves as a template nationwide."1 Since then, Dr. Valentine has dedicated herself to raising awareness about this touch DNA form among those who work with sexual assault victims. To Dr. Valentine, the effort is worth it to help survivors find justice and healing. 
Dr. Valentine's contributions to the field of forensic nursing can be found in a number of peer-reviewed journals, including the Journal of Forensic Nursing. Her research and work have exposed her to hundreds of horrifying cases of violence, but these only serve to further inspire her to help. "I am often asked how I can do this difficult work of caring for individuals impacted by violence," Dr. Valentine shared in her 2021 BYU devotional. "My response is 'How can I not?' I can do this work because I believe that I have a noble responsibility to use my strength and influence for good."2 
Dr. Valentine exemplifies the Savior in her commitment to the service He has called her to. Her influence is felt in her family, in the BYU community, and in the lives of the sexual assault survivors she strives to help. As Dr. Valentine said in her devotional, "We influence others every day in small and simple ways. Don't ever believe that you do not have a profound impact or influence in this world."3 
Dr. Valentine and her husband have eight children and two grandchildren. They currently reside in Sandy, Utah. 
[1] Christie Allen. "BYU nursing professor helping revolutionize DNA evidence collection in sexual assault cases," BYU University Communications, May 2021.
[2] Julie L. Valentine. "A Noble Responsibility for Good," BYU Speeches, Nov 2021.
[3] "A Noble Responsibility for Good."
---
---