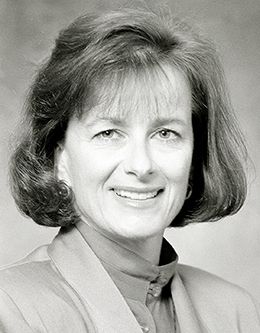 Katherine D. Pullins
Katherine D. Pullins grew up in El Paso, Texas. She was an only child and belonged to a family that espoused Christian values. Her first exposure to The Church of Jesus Christ of Latter-day Saints occurred while on a high school trip to a fair, where she stumbled upon a presentation by LDS missionaries, who were handing out pamphlets about the Prophet Joseph Smith. Intrigued by the story of this boy-prophet and the persecuted band of Mormon pioneers, she later wrote about their experiences for an American history paper. However, it wasn't until later that she met with sister missionaries and accepted their challenge to read and pray about the testimony of Joseph Smith. It was then that she felt a longstanding spiritual thirst quenched; soon after, she joined the Church.
Early in her education, Katherine D. Pullins felt drawn to investigate the law, having felt an especial interest in justice for victims of discrimination. After earning her bachelor of arts degree in English, graduating magna cum laude from Brigham Young University, she went on to earn her juris doctorate from BYU's J. Reuben Clark School of Law. As a law student, she was president of the Women's Law Forum.
Katherine D. Pullins joined the faculty of her alma mater, ultimately serving as an associate dean of the Law School. In that capacity, she oversaw student and alumni relations. Her legal and academic work earned widespread recognition—she received the Dorathy Merrill Brothers Award for the Advancement of Women in the Legal Profession from the Utah State Bar as well as the Outstanding Woman on Campus Award at a BYU Women's Week.
Katherine D. Pullins has also been involved in her community in multiple meaningful ways. She has served on the Media Review Committee and the Blue Ribbon Governmental Review Commission for the city of Orem and has completed many hours of volunteer work for Utah Valley Regional Medical Center and Orem Community Hospital. She chaired the Women's Conference Planning Committee from 1995 to 1998 and served, among other callings, as the stake Relief Society president of a BYU student stake.
An avid baseball fan, Katherine fell in love with Gary Pullins, who would become a longtime BYU baseball coach and assistant athletic director. They have four sons: Brandt, Micah, Travis, and Taylor. Having grown up without siblings, Katherine recalls that the humbling challenge of parenthood spurred her to deepen her relationship with the Lord. As she sought peace and guidance, she also learned valuable lessons concerning the power of mediation. This helped inform her extensive work in legal mediation and dispute resolution, especially in family relationships.
In her BYU devotional, Katherine D. Pullins shares insights about Joseph Smith and the ways his accomplishments have changed not only the world, but individual lives.
---
---