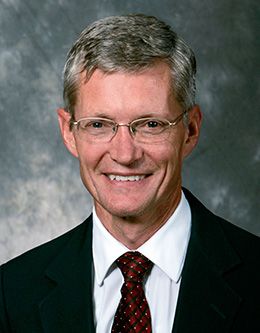 Keith J. Wilson
Keith J. Wilson grew up in a happy family of ten children in the high desert area of Southern California. He served a mission for The Church of Jesus Christ of Latter-day Saints in Vienna, Austria. His love for the people he served translated into his college studies when he returned home, and he graduated from Brigham Young University with a degree in German and Health Science. He is still fluent in German today.
Wilson then went on to earn an MA from BYU and a PhD from the University of Utah. His graduate study focused on the history and formation of universities in America, especially the influence of religion on higher education. His current areas of expertise and study revolve around the secularization of higher education, the moral foundation of knowledge, and academic freedom, which uniquely qualified him to defend BYU at an academic freedom conference in 1997.
In the Department of Ancient Scripture at BYU, Wilson teaches classes on the Book of Mormon as well as the Old and New Testaments. He has written many articles and book chapters and has edited two books, Celebrating Easter and His Majesty and Mission.
Wilson's expert knowledge of the scriptures, his sense of humor, and his obvious care for each of his students have earned him the admiration and love of everyone who knows him. That concern for each individual student comes from a testimony of the personalized love and care God has for each of His children, a testimony Professor Wilson shares in his inspiring BYU devotional.
Wilson and his wife, Linda, have raised eight children together and now have many grandchildren. As a scholar, teacher, husband, and father, he not only strives to understand the life and teachings of the Savior but to become like Him.
---
---