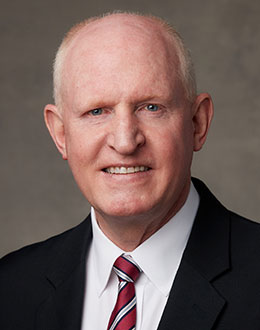 Kelly R. Johnson
General Authority Seventy
Kelly Ray Johnson was born on January 16, 1963, in Pleasant View, Utah. His parents, Harold and Helen Johnson, raised him in Ogden. Elder Johnson served in the Thailand Bangkok Mission before attending Weber State University. While singing in the Ogden Institute Choir, he met Teressa Lynn Bartrum, whom he later married on March 27, 1986, in the Salt Lake Temple. They are now the parents of five children and have sixteen grandchildren.
Elder Johnson earned a bachelor of science degree in 1987 and then continued his educational journey at Brigham Young University. In 1989, he graduated from BYU with a master of business administration degree and began his career as a forensic accountant at KPMG, an accounting organization that provides tax advisory services and financial audits.
Five years later, at the age of 31, Elder Johnson was called to be the bishop of his ward. On the same day that this calling was extended to him, he was diagnosed with Bell's palsy, a condition that paralyzes or weakens the muscles on one side of the face. Balancing his new responsibilities as bishop along with his condition was difficult for Elder Johnson, but this experience also instilled in him a sense of empathy and compassion for those around him, which still drives him to help struggling individuals.
When his fourth child, Jace, was born, Elder Johnson was presented with another opportunity to learn and grow his faith. Jace was born with a somewhat dangerous condition known as sagittal synostosis. This abnormal deformation of Jace's skull forced the Johnson family to watch as their new baby went through a minimally invasive surgery. Prior to the surgery, the family was told that Jace would need to fast for the twelve hours before the operation. As was a newborn that was eating every two hours, this was concerning. The whole family prayed, and Elder Johnson gave a priesthood blessing to his son, asking that Jace would be comfortable throughout the process.
The Johnsons' prayers were answered throughout the twelve hours prior to the surgery as they watched Jace sleep comfortably during much of the time. The surgery itself was successful, and Jace grew up to be a healthy member of their family. For Elder Johnson, this miracle helped confirm to him that Heavenly Father heard his prayers.1
Elder Johnson has served in a variety of church callings prior to his call as a General Authority Seventy. From 2015 to 2018, he was called to preside over his old mission in Bangkok, Thailand. After his release, he returned to work as a forensic accountant, this time at Norman, Townsend & Johnson. He continued to work there until his call to become a General Authority Seventy on April 4, 2020.
---
---