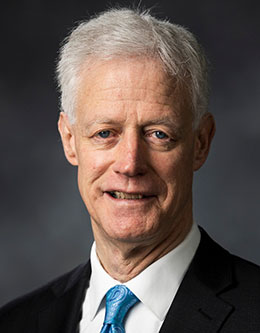 Kevin J Worthen
President of Brigham Young University
On January 23, 2015, a final Jeopardy! prompt was "The mission of this western university founded in 1875 is 'to assist individuals in their quest for perfection and eternal life.'" Anyone who had heard Kevin J Worthen speak on virtually any occasion in the previous year would have known the answer: Brigham Young University. Worthen, a gifted lawyer, educator, and university president, has often proudly but in his characteristic down-to-earth manner called himself "a BYU guy, through and through." 
Early Life, Education, & Family
Born on April 15, 1956, in Dragerton, Utah, Kevin J Worthen is the youngest of four children. He distinguished himself early on for his intelligence and diverse interests. In high school he contributed to the school newspaper and participated in debate, band, choir, and various sports. He especially loved basketball, which he went on to play as a cocaptain of the varsity team at the College of Eastern Utah (CEU). He learned the value of hard work by he working in a coal mine during his summer breaks from college. Worthen served a mission in Monterrey, Mexico, and then returned to CEU to finish his associate's degree. He met his future wife, Peggy Sealey, at a church dance. They were soon married and are now the parents of three children and the grandparents of several grandchildren. 
After graduating from CEU, the Worthens headed to BYU. President Worthen earned his bachelor's degree in political science, graduating summa cum laude, and stayed to earn a juris doctor degree at the BYU Law School, graduating first in his class. 
Career and Church Service
After a promising start to a law career, including positions as a clerk for Judge Malcom R. Wilkey on the U.S. Court of Appeals and as a clerk for Associate Supreme Court Justice Byron R. White, Worthen settled into a law firm in Arizona. Three years later he was invited to return to BYU, this time as a member of the faculty. He became distinguished for his contributions to the university and to the field of law as a whole. 
Worthen is known for his expertise in Native American law. He studied for a year in South America as a Fulbright scholar, examining cultural and ethnic assimilation of native populations and teaching at the University of Chile Law School. He wrote many articles on Native American law and the rights of indigenous peoples but also showed his variety of interests by writing and publishing law articles about marriage, religion, and even sports. From 2004 to 2008, he was the dean of the J. Reuben Clark Law School. 
President Worthen's many skills have served BYU well. After 2008, he served as the University's advancement vice president, which gave him stewardship over BYU Broadcasting, LDS Philanthropies, alumni relations, University Communications, and athletics. As BYU's representative to the NCAA and chair of the university's Athletic Advisory Council, he oversaw BYU's move to the West Coast Conference and negotiated television contracts with ESPN. 
Worthen has served in many leadership capacities for The Church of Jesus Christ of Latter-day Saints, including Area Seventy, bishop, and stake president.
In 2014, Kevin J Worthen became the university's thirteenth president. He was inaugurated on September 9 of that year. As president he showed his commitment to and confidence in the mission and aims of BYU. Worthen's vision of the university as not only a reputable and growing institution of secular learning but also a laboratory for spiritually perfecting experiences led him to create the Inspiring Learning Initiative, which has blessed the lives of thousands of students across campus. In an increasingly polarized global climate, Worthen championed unity and identity, creating the BYU Office of Belonging and the BYU brand statement. Through his expertise, inspiration, and faith, President Worthen has helped BYU emit a unique light for the benefit of the world.  
In 2023, President Worthen ended a memorable nine-year tenure as president of Brigham Young University. Less than a month later, he accepted several distinguished law appointments, becoming the first BYU Wheatley Institute Distinguished Fellow in Constitutional Government and representing BYU as the Michael Doyle '62 and Bunny Winter Distinguished Visiting Professor of Law at Yale Law School. In addition, Worthen continues to hold the Hugh W. Colton Professor of Law position at BYU's J. Reuben Clark Law School.
---
---