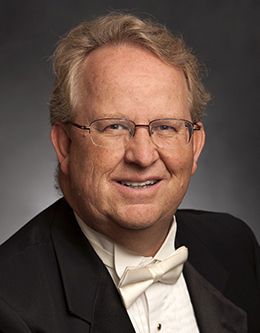 Kirt R. Saville
Kirt Saville grew up with parents who valued him and helped him aspire to be his best. Though they did not frequently attend church, they were inspiring examples of Christian living who instilled in Kirt the desire to serve others freely. In his BYU devotional, he shares how those lessons of service and love shaped his character.
Saville earned a bachelor's degree in music education at BYU, a master's degree in woodwind performance from the University of North Texas, and a doctorate in education from Utah State University. For nine years he taught in the public school system, directing bands at Sky View High School and Lehi High School. He also spent twenty-two years as the director of bands at Washburn University in Topeka, Kansas, also serving as the music department chairman during fifteen of those years.
Here at Brigham Young University, Saville is the director of the School of Music as well as a professor of music education and the associate director of bands. He teaches instrumental music education and conducts the Symphonic Band.
Saville has made a national and international impact on his field through his academic work as well as through his dynamic teaching. His articles have appeared in the Music Educators Journal, The Instrumentalist, BD Guide, Kansas Music Review, and the Utah Music Educators Journal. He has presented band clinics and session workshops throughout the West and Midwest. In 2004 Saville was invited to the People's Republic of China to conduct the band and orchestra programs at Tianjin University, and he returned there to conduct, perform, and teach in 2007, 2010, and 2011. In 2013 Saville initiated a summer music internship program in Bolivia, providing opportunities for Brigham Young University students to teach orchestral instruments in private and small group settings under the auspices of the Fundación Sinfónica Cochabamba.
Although he has been on many prestigious stages, Saville's favorite place to be is with his sweetheart, their five children and children-in-law, and their extraordinary grandchildren.
---
---