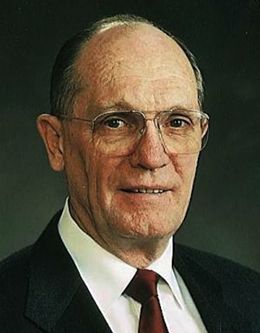 L. Aldin Porter
The life and testimony of L. Aldin Porter are reflected in his devotional speeches given at Brigham Young University. He encourages listeners to focus their attention on the words and counsel of modern prophets. By doing so, they will avoid the pitfalls and traps so many become victims of.
Elder Porter's powerful testimony was not developed by accident. From a young age, Elder Porter had a strong desire to act on the counsel and direction given to the Church by the prophet. In 1950, he left home to serve in the West Central States Mission. He knew his mission call came from the Lord's inspired servants and went to work with a sense of responsibility that would continuously bless his life for years to come.
Elder Porter's speech "Search the Prophets" bears his witness of the importance of "The Family: A Proclamation to the World." Although the document had not yet been written when Elder Porter and his wife, Shirley Palmer, were starting their own family, they strove to live by the counsel of the prophet to raise their children by strong example in the gospel. They lived the principles that were later taught in the proclamation, providing their children with a spiritual education and the opportunity to learn the value of work. Elder Porter had a successful career in the insurance industry, but also owned a farm where he could work beside his children.
Alongside his family and career, Elder Porter served faithfully in a number of Church callings. These included serving as bishop, stake president, stake patriarch, regional representative, and as counselor in the Boise Temple Presidency before becoming the mission president of the Louisiana Baton Rouge Mission. This last call, however, would turn out to be his shortest. After just nine months in Louisiana, Elder Porter was called by President Gordan B. Hinckley to the First Quorum of the Seventy.
Elder Porter would serve as a general authority seventy in both the First and Second Quorum of the Seventy for fourteen years before being granted emeritus status in 2001. In this time, he worked as the assistant executive director of the Family History Department, the executive director of the Missionary Department, and the president of the Utah South Area. His general conference addresses mirror his BYU devotionals in testimony of the Lord's chosen prophets and their inspired words.
---
---