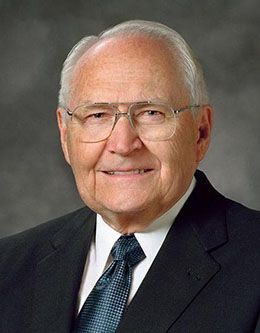 L. Tom Perry
Lowell Tom Perry was born on August 5, 1922, in Logan, Utah. His ancestors were among the first settlers of the region, commemorated by the name of nearby Perry, Utah. His father served as the bishop of their ward in Logan for the entirety of L. Tom Perry's childhood, and Perry learned early the importance of service in the Church. Even as a young boy, he made that devotion his own: he set a personal goal to have a perfect attendance record at church, and he proved that he wanted to be there, no matter what.
When he was 18, L. Tom Perry left home to study at Utah State Agricultural College. He had been there only a year before he traveled to the Northern States Mission to serve as a full-time missionary. When he returned, he was drafted into military service, whereupon he joined the Marine Corps and was sent with the first American troops to occupy Japan. While stationed overseas, the young serviceman looked for opportunities to serve the people of war-torn Japan. In Saipan, he participated in the construction of an LDS chapel, and in Nagasaki he coordinated a group of Marines to help rebuild a local Protestant church.
After coming home in 1946, L. Tom Perry returned to school at Utah State, where he graduated with a bachelor of science degree in finance in 1949. He did some graduate work in finance before taking his first job with a retail business in Idaho. He soon became a successful businessman, and his work took him to Washington, California, New York, and Massachusetts. He attributed many of his talents in business to lessons he learned in Church service; during these years, despite long hours and stressful workloads, he also served as a counselor in a bishopric, an early-morning seminary teacher, a high councilor, a counselor in a stake presidency, and as the stake president in Boston.
L. Tom Perry married Virginia C. Lee in 1947, and together they had three children. Perry suffered many times from the loss of loved ones: in 1974 Virginia passed away from cancer and in 1983 their daughter Barbara followed, also taken by cancer. He also lost two grandchildren. L. Tom Perry kept faith that death was not the end, and his refreshing optimism often surprised others. In 1976 he met and married Barbara Dayton, with whom he enjoyed gardening, working on the house, walking, jogging, and doing just about everything.
The Perry family resided in various places, which resulted in memorable family experiences involving one of Perry's favorite pastimes—baseball. In California, Perry became a San Francisco Giants fan and a particular fan of baseball player Willie Mays. Later, while living in New York, his son Lee surprised him with tickets to see the visiting Giants, including WiIlie Mays, play the Mets. It turned out to be a 23-inning game, with Willie Mays scoring the winning run, and resulted in L. Tom Perry and his son returning home at 2:30 in the morning. For his 70th birthday, Lee gifted him a baseball bat signed by Willie Mays as a reminder of that special memory. Later, then living in Boston, L. Tom Perry became a fan of the Boston Red Sox, who later invited him to throw the first pitch at a game in 2004.
In 1972 L. Tom Perry was called as an assistant to the Quorum of the Twelve Apostles and just two years later was called as a member of that Quorum. He traveled and spoke extensively in his role as a special witness of Jesus Christ. He also wrote two books: Family Ties: A Message for Fathers and Living with Enthusiasm. He and Barbara received the Humanitarian Award for Service to Others from Catholic Community Services of Utah. He was best known for his unassuming and cheerful nature; one young mother remembered him as the kind man who held her baby during an entire flight while she struggled to calm three other young children.
Elder L. Tom Perry passed away on May 30, 2015, from thyroid cancer and was buried in Salt Lake City next to the family members who had preceded him. He gave nearly thirty talks at BYU that demonstrate his upbeat character, his patriotism and love of family, and especially his testimony of the gospel.
---
---