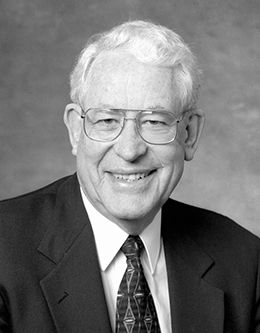 Larry C. Porter
Dr. Larry C. Porter earned his BA degree in history from Utah State University and MA and PhD degrees from BYU in the history of religion (specifically, LDS Church history). After serving for 11 years as a Church semi­naries and institutes instructor, principal, and district coordinator, he joined BYU's fac­ulty in 1970. Professor Porter has served as chair of the Department of Church History and Doctrine for seven years and as director of the Church history area of the Religious Studies Center, also for seven years.
He has been a coeditor for Truth Will Prevail, a history of the Saints in the British Isles. He has also coedited The Prophet Joseph: Essays on the Life and Mission of Joseph Smith and Lion of the Lord: Essays on the Life and Service of Brigham Young. He served on the editorial board of the Encyclopedia of Mormonism and is currently an associate editor of BYU Studies. Dr. Porter has been a contributing writer in a variety of books and authored numerous articles for the Ensign, New Era, Church News, BYU Studies, Regional Studies in Church History, and New York History.
Professor Porter has traveled extensively in connection with his research, and he lived for a year at the Martin Harris Farm in Palmyra, New York. He has researched early Church history during successive summers in New England, New York, Pennsylvania, Ohio, Missouri, California, Canada, and Great Britain.
Brother Porter has been a bishop and has served on the Provo Utah North Stake high council. He was a member of the Church's Correlation Review Committee for 11 years, serving as its chair for part of that time.
---
---