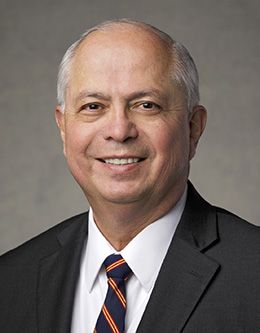 Larry Echo Hawk
of the Seventy
Larry J. Echo Hawk has made it his life's mission to use his education to bless the lives of those around him. Growing up in Farmington, New Mexico, he was introduced to The Church of Jesus Christ of Latter-day Saints at age fourteen. He was baptized with his family, but it wasn't until he read the entire Book of Mormon that he experienced the profound truth of the gospel. Later, he was able to baptize his future wife, Teresa Joanne Pries, before the two were married in the Salt Lake Temple.
Elder Echo Hawk attended Brigham Young University and earned a bachelor's degree in physical education and zoology while playing on the BYU football team. He went on to earn his JD from the University of Utah in 1973 before attending Stanford University's Graduate School of Business for a year.
Elder Echo Hawk served in the United States Marine Corps for two years before beginning a successful legal and political career dedicated to mending the relationship between Native American tribes and the United States government. This included serving two terms in the Idaho House of Representatives and serving as the elected attorney general of Idaho for four years. In both of these positions, he was one of the first Native Americans to hold the office. In 1992, BYU honored him as a distinguished alumnus.
In 2009, after spending time working as a professor in BYU's J. Rueben Clark Law School, Elder Echo Hawk was appointed by President Barack Obama to be the assistant secretary of Indian affairs within the Interior Department. He worked with the administration to permanently improve the situation of all Native American tribes.
Elder Echo Hawk resigned from this position when he was called to the First Quorum of the Seventy. Since then, he has served in several different departments within the Church, including service as the assistant executive director of the Church's Correlation Department and as a member of the Church's Boundary and Leadership Change Committee.
---
---