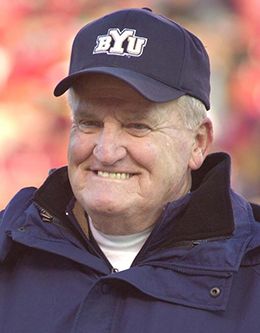 LaVell Edwards
LaVell Edwards spent most of his life on a football field in the shadow of the Wasatch Range, yet the impact of his life spans enormous distances. As the head football coach at BYU, Coach Edwards attracted the attention of the nation with his unprecedented success. More impactful, however, was his example and influence in the lives of countless individuals who played on his team.
Reuben LaVell Edwards was born on October 11, 1930, in Orem, Utah. As a teenager, he was an all-state center and linebacker on a state championship football team at Lincoln High School. His success led him to a center position on the Utah State University football team in Logan, Utah.
A cowgirl from the tiny town of Big Piney, Wyoming, who knew nothing about football was also studying at USU. Her name was Patti Covey. Patti and LaVell met one another on a blind date set up by a couple of mutual friends, and the two hit it off. The following year, during the summer of 1951, they were married. Patti's retiring father had a lucrative business and offered ownership to LaVell, but he turned down the offer to pursue his dream of being a football coach. Despite her initial lack of knowledge about football—and her subsequent distaste for it—Patti grew to love the sport, especially the experiences and relationships that came into her life because of it. She and LaVell raised three children, Ann, John, and Jim.
After graduating from Utah State, Edwards served in the army and spent some time overseas. When he returned, he and Patti moved to Salt Lake City, where he began coaching at Granite High School and simultaneously earned a master's degree at the University of Utah. Later, during his time as an extremely successful but extremely busy head coach, Edwards also earned a PhD in education from BYU in 1978.
His team at Granite High never had a winning record, but Coach Edwards was undaunted. He accepted an assistant coaching position at Brigham Young University in 1962, taking charge of the defensive line. A decade later he and his family settled permanently in Provo as he became the head coach of the team.
BYU's football team had been struggling, and Coach Edwards saw an opportunity for innovation. He had the idea to switch the team's offensive strategy from running attacks, which then dominated most college football teams, to a passing-oriented approach. This switch, combined with the talent and hard work of his players and his own dynamic coaching style, started BYU on a long and exciting track of success and progress.
In his 29 seasons as head coach, Edwards only saw one losing season at BYU—his second year of coaching. He led the team to many conference titles over the years and a national championship in 1984. He coached quarterbacks like Steve Young, Jim McMahon, Ty Detmer, Marc Wilson, Robbie Bosco, Gary Scheide, Gifford Nielsen, and Steve Sarkisian. Among his players were many All-Americans and Conference Players of the Year, as well as winners of the Heisman trophy, Doak Walker Award, Maxwell Award, Outland Trophy, Davey O'Brien Award, and Sammy Baugh Award. He also coached 18 future prominent coaches who now scatter the nation. His career of 257 victories made him one of the most successful college coaches of all time. He was named the Bobby Dodd Coach of the Year in 1979 and the National Coach of the year in 1984; received the Amos Alonzo Stagg Award in 2003 and the Paul "Bear" Bryant Lifetime Achievement Award in 2013; and was inducted into the College Football Hall of Fame.
Meanwhile, Patti also became an extremely influential figure in the world of college football. She founded the American Football Coaches Wives Association to advocate for women married to coaches and players. Having become acquainted with the difficulties of being married to someone with such a demanding and transient career, she encouraged other women to seek out greater fulfillment in life by finding their own outlets and establishing their unique identities.
After the national championship title in 1984, Edwards was offered head coaching positions for the Detroit Lions and the University at Texas at Austin, but he turned them down to stay with his team at BYU. For Edwards, coaching was never about the money or the prestige or even just football. It was about being an influence in the lives of his players—an influence which many of them attest to. Coach Edwards announced his retirement in 2000, and before his final game, the BYU football stadium was renamed in honor of him.
Upon retirement, Edwards continued to be involved in BYU, the Church, and the community, serving a mission with his wife Patti for The Church of Jesus Christ of Latter-day Saints in New York from 2002 to 2003. Five days after suffering a broken hip, he passed away in his Provo home on December 29, 2016, at age 86. He is missed and loved by the university—not only for the success and attention he brought to the football team, but, more importantly, for his example and testimony that embodied the ideals of Brigham Young University. His character and down-to-earth wisdom are reflected in these addresses.
---
---