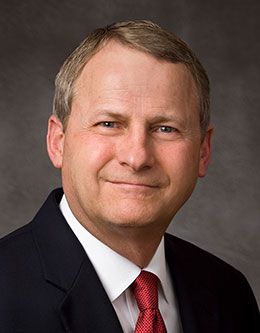 LeGrand R. Curtis Jr.
of the Seventy
LeGrand Raine Curtis Jr. was born in Ogden, Utah, on August 1, 1952, to LeGrand R. Curtis Sr. and Patricia Glade. After graduating from high school, Curtis was called to serve as a missionary in the Italy North Mission. Upon his return, he married Susan Jane Cowan in January 1974; the couple now has five children.
Curtis continued his studies at Brigham Young University, graduating with a bachelor's degree in economics in 1975. He then pursued graduate studies at the University of Michigan and received his juris doctor in 1978, which led to a long legal career. Curtis worked as an attorney and partner in the Salt Lake law firm Manning Curtis Bradshaw & Bednar; he also taught as an adjunct professor in the J. Reuben Clark Law School at his alma mater, BYU.
In 1998 Curtis again had the opportunity to build the Lord's kingdom in Italy, but this time as president of the Italy Padova Mission. He served in this capacity until 2001. Three years later, Curtis was called to be an Area Seventy in the Utah Salt Lake City Area, where he served until 2011. Elder Curtis was then called as a member of the First Quorum of the Seventy. His service in that quorum included the unique opportunity to travel and minister to Saints on the opposite side of the globe as president of the Africa West Area. He was later released from that assignment and called to serve a little closer to home at Church headquarters in Salt Lake City.
Elder Curtis delivered a devotional address at BYU and counseled his audience to use both hearts and minds to learn God's will.
---
---