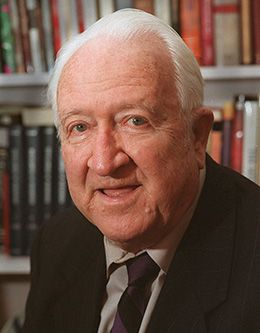 Leonard J. Arrington
Widely respected as the "dean" and "father" of Mormon history, Leonard J. Arrington served as Historian of The Church of Jesus Christ of Latter-day Saints from 1972 to 1982. Born July 2, 1917, Brother Arrington grew up in a farming community in Twin Falls, Idaho during the Great Depression. His interest in economics—which he would later study—was sparked by a boyhood-curiosity regarding the price of potatoes: Leonard placed slips of paper in sacks of potatoes asking buyers to contact him and report how much they paid for the potatoes. Buyers reported inflated prices as high as two dollars for sacks of potatoes that had been sold initially for just five cents.
Brother Arrington graduated Phi Beta Kappa from the University of Idaho with a degree in agricultural economics. In 1942 he married Grace Fort, who joined the Church four years later. During World War II, he took a three-year leave from his studies and his new family to serve in the military in North Africa and Italy. Following his military service, Leonard completed a doctorate in economics at the University of North Carolina at Chapel Hill.
Arrington's professional career began in 1946 when he accepted a position as professor of economics at Utah State University. During his career, he was a fellow at the Huntington Library, a Fullbright professor of American economics in Italy, and a visiting professor of history at the University of California, Los Angeles. He remained at Utah State until 1972, when he accepted the call to serve as Church Historian. He has also been the recipient of two honorary doctorates—one from his alma mater, the University of Idaho, and the other from Utah State University.
Prior to the call to serve as Historian in 1972, Brother Arrington helped establish the Mormon History Association and the Western Historical Quarterly. He also served as president of the Western History Association, the Agricultural History Society, and the Pacific Coast Branch of the American Historical Association. In March of 1982, the year he was released as Historian, his wife Grace passed away. In November of 1983, he married Harriett Horne.
Throughout his career, Arrington published a book and several articles, receiving in 1984 the Western History Associate Prize for his works. He was named a fellow of the Society of American Historians in 1896 and, following his death in 1999, was posthumously awarded both the Leonard J. Arrington Award and the Lifetime Achievement Award from the John Whitmer Historical Association. Brother Arrington's numerous forward-thinking publications helped normalize discussion of the storied history of the Church.
---
---