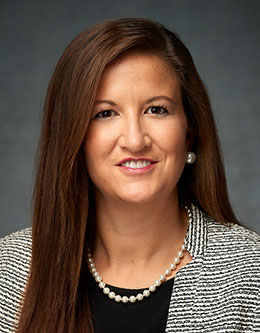 Liz Darger
Liz Darger, of Boise, Idaho, "enjoys showtunes and Broadway musicals, pickleball, boating on Bear Lake, and traveling with family and friends."1 And as exciting as all of these hobbies are, she has an even more intriguing job. Darger is currently working as the senior associate athletic director/senior woman administrator at Brigham Young University. This position allows her to work with a wide range of people and oversee a varying array of sports at BYU. She is the sport administrator for "women's soccer, men's and women's cross country, women's gymnastics, the spirit squads and men's and women's indoor and outdoor track and field."2 Beyond overseeing these sports, Darger is committed to making sure that BYU athletics provide a good environment for student athletes, and a good example to the world. Other responsibilities of hers that help fulfill those goals are overseeing student-athlete welfare and human resources, and working to ensure gender equity by serving as a campus Title IX liaison. 
In addition to these roles, Darger is a member of the West Coast Conference Executive Council, their Championships and Sport Administration Cabinet, and NCAA Common Ground Leadership Team. These positions involve dedicating herself to the same goals mentioned earlier—namely, creating an inclusive environment for all athletes. 
Darger reached where she is now through her consistent efforts to serve, lift, and help students. After graduating with her bachelor's degree in family sciences from BYU in 2000 and her master's in school counseling psychology, also from BYU, in 2004, Darger accepted positions as the varsity women's basketball coach and as a school guidance counselor at Timpanogos High School. During this time, she also became women's athletic director at Timpanogos High School, and president of the Utah High School Women's Basketball Coaches Association. 
Soon, though, Darger's love for and dedication to her work was noticed by Utah Valley University, where she was hired as the assistant women's basketball coach. There, her influence was strongly felt. As assistant women's basketball coach, Darger helped the program expand and improve performance significantly. In addition to improving athletics for UVU students, she also had an enormous impact on the educational pursuits of her athletes by helping them achieve "the highest GPA among all Division I schools twice, while being named to the Women's Basketball Coaches Association Academic Team Honor Roll all six years."3 Then in 2015, BYU got Darger on their staff. 
Not only does Darger manage to prioritize helping students feel like they belong in athletics, expanding and supporting BYU's athletic endeavors, and mentoring students in their educational pursuits, but she also devotes time to her current calling as a member of the Young Women General Advisory Council of the Church of Jesus Christ of Latter-day Saints. In her 2021 devotional, Darger promoted the idea of creating a "home-court advantage"4 for the people in our life through ministering. She is an example to young women, a champion for young athletes and students, and a valued staff member at BYU. 
[1] "Liz Darger Staff Bio," BYU.
[2] "Bio."
[3] "Bio."
[4] Liz Darger, "To Receive, to Covenant, and to Minister," May 2021.
---
---