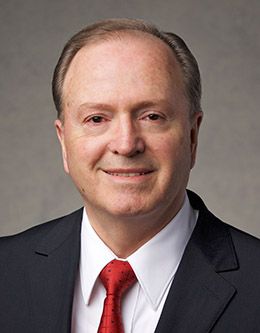 Lynn G. Robbins
of the Presidency of the Seventy
Family, Missionary Service, & Education
Lynn G. Robbins, son of Evelyn Reed and Joshua Grant Robbins, was born on October 27, 1952, in Payson, Utah, but grew up in the nearby town of Springville. Robbins describes his own youth as "Huck Finn" in nature, having spent his time outside exploring and playing numerous sports. Jan Neilson, who lived next to his grandmother and aunt, was one of his close childhood friends, and during their senior year of high school, he asked her on a date. Later, Jan wrote him 104 letters—one for each week he served in the Argentina North Mission. They were married in the Manti Temple on June 27, 1972, eight months after he returned home. The two would later become parents to seven children.
After their marriage, the couple relocated to Logan, Utah, and attended Utah State University. Robbins studied food science and business administration in order to pursue a restaurant career; however, when he learned that his wife was expecting their first child, he switched majors in order to spend more time with family and less time at work. Robbins graduated with a bachelor's degree in Spanish and political science in 1976 and later received his master's in international management from the American Graduate School of International Management.
Career
Although his education provided opportunities to relocate internationally, the Robbins family remained in Utah to stay close to family. There, Robbins worked as a sales representative for a legal publisher and as a financial consultant, but time management products would ultimately come to define his career. Robbins cofounded the Franklin Institute, now called Franklin Covey, a company that specializes in motivational seminars and day planners. However, the best way to manage time, says Robbins, is to "put the Lord first and all other things will be added unto you."
Church Service
Robbins has done just that. He held many callings in his ward and stake before he was called in 1994 to preside over the Uruguay Montevideo Mission. Shortly after his release in 1997, he was called to serve as a member of the Second Quorum of the Seventy. Three years later Robbins became a member of the First Quorum of the Seventy and from 2003 to 2004 he was in the general presidency of the Young Men organization. He was also the executive director of the Media Services Department. In April of 2014, Robbins was sustained as a member of the Presidency of the Seventy. His duties as a General Authority have taken him all over the globe, and he relishes in the "sweet blessing of becoming acquainted with Saints all over the world."
Elder Robbins's visits and addresses at BYU have been enjoyed by those on campus and countless others who have since listened to or read his words. His scriptural knowledge and use of analogies and stories are powerful tools that testify of Jesus Christ.
---
---