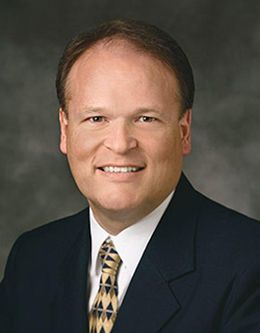 Marcus B. Nash
of the Seventy
Elder Marcus B. Nash is a General Authority Seventy in the leadership of the Church of Jesus Christ of Latter-day Saints. He was born in Washington in 1957. As a young man, he served as a full-time missionary in the El Salvador San Salvador Mission. When he returned, he graduated with his bachelor's degree in international relations from Brigham Young University. He then went on to receive his law degree from BYU and became an attorney.
Elder Nash has served in leadership callings for several years. He has been a bishop, a stake president, and an area seventy. He was sustained as a General Authority Seventy in April 2006. When he received his call, he was serving in the Fifth Quorum of the Seventy in the North America Northwest Area. His callings have taken him all over the Americas, including the South America West, South America Northwest, North America Northeast, and North America Southeast areas. Elder Nash has also served in the Correlation Department, the Church History Department, and on the Boundary and Leadership Change Committee. His is currently serving in the Africa West Area Presidency.
Elder Nash met his wife Shelley during his time at BYU. They are the parents of five children. In his 2016 BYU devotional addressed the plan of salvation. He discussed how believing in the plan of salvation does no good unless one acts in faith to achieve his or her divine potential. Elder Nash has also spoken in several sessions of General Conference, including October 2006 and October 2012. In April 2013, he represented the Church at the 18th Annual Stegner Center Symposium on faith and the environment. He gave a talk regarding the relationship between the two. Elder Nash has lived a fulfilling and busy life and continues to touch the lives of those around him through his selfless service.
---
---