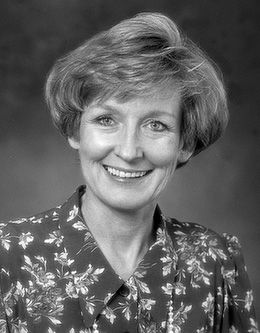 Marie K. Hafen
Marie Kartchner was born and raised in Bountiful, Utah. She had loving and faithful parents whose examples she continued to draw upon throughout her life.
An avid learner with a passion for literature, Marie attended Brigham Young University to study English. There she earned both her bachelor's and master's degrees. She also met a young man there in an honors class named Bruce Hafen. She was impressed by his intellect and character, and he was likewise drawn to her faith and love of learning. They were married in 1964 in the St. George Temple. She continued to impress him, and years later he would later say of her that she was "her own best sermon."
Together, Marie and Bruce raised seven children. Their home was one of music and recreation; Hafen herself particularly enjoyed playing the flute and playing tennis. She stayed home while their children were little so that she could focus her time and energy on them, especially as her husband's career and service often took much of their time. However, after the children were older she began teaching religion, literature, and writing at BYU–Idaho and BYU.
Hafen was also very involved in service for The Church of Jesus Christ of Latter-day Saints. She served as a Relief Society president, a Laurel advisor, and on the Young Women General Board. Putting her literary talent to good use, she was also on the board of directors for Deseret News. She published several articles in Church magazines, wrote for the Relief Society general curriculum committee, helped edit a compilation of articles from the Relief Society magazine for a book entitled A Legacy Remembered, and co-authored The Belonging Heart with her husband.
Marie K. Hafen spoke in a devotional address at BYU about "getting real" in our relationships and gospel progression. Alluding to Shakespeare, who is her favorite author to read (except for the scriptures), she declares that it is better to be than to seem. Her words are refreshingly genuine and timely, and though she is her own best sermon, this address is close behind.
---
---