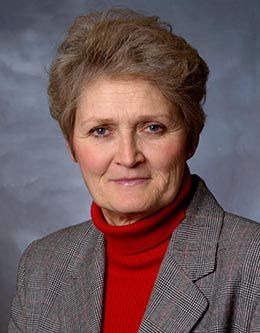 Marie Tuttle
Sister Marie Tuttle earned bachelor's and master's degrees in elementary education from BYU. She completed doctoral studies at Texas A&M. She began her BYU career in 1976, teaching in the Department of Elementary Education. In addition to teaching here, Dr. Tuttle has taught at BYU—Hawaii and at Texas A&M.
An experienced seminar teacher and supervisor of field-based classes, Dr. Tuttle also taught children's literature and teaching methods in language arts and reading. She supervised elementary education students in Mexico, Tonga, Samoa, Kiribati, and Fiji, as well as hundreds more in schools along the Wasatch Front.
Her BYU assignments were split between teaching and administration. In addition to teaching field-based classes in elementary education, Professor Tuttle served as a dis­trict liaison in the BYU–Public School Partnership, as director of field pro­grams, and as associate chair in the Department of Teacher Education. Her research interests include new-teacher mentoring and induction (What strate­gies best support new teachers and add to their effectiveness?), nurturing pedagogy (What strategies help teach­ers connect with students and keep them interested in school?), and portable pedagogy (How can professional teaching strategies be adapted to home and Church settings?).
Sister Tuttle has served in many Church callings. Her favorite service has been as a Primary teacher.
---
---