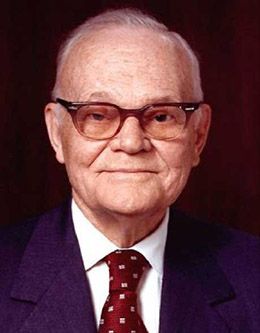 Marion G. Romney
Marion G. Romney was born on September 19, 1897, in Colonia Juarez, Chihuahua, Mexico. Only eight days after his birth, his father, George S. Romney, left to serve a two-year mission in the Northern United States. His mother, Artemesia, worked hard to keep the family afloat and support her missionary husband. Early on in his life, Marion G. Romney learned the importance of hard work and dedication to the Lord from the example of his parents. The second of ten children, he worked hard, both on the family's farm and in the classroom at the Academia Juarez.
In 1912 the violence from the Mexican Revolution grew dangerously close to the Romney family's home, prompting the Romneys to move from Mexico to California. The journey was difficult and perilous, and when they arrived they had almost nothing. In California, George S. Romney worked as a carpenter and taught Marion the trade. The family later settled on a farm in Idaho.
Young Marion G. Romney continued to work hard in school, and he also excelled in sports. In 1918 he graduated as the valedictorian from Ricks High School. The captain of the football and basketball teams, he was offered an athletic scholarship; he turned it down, however, in order to serve a mission. Just as his family had sacrificed to send his father on a mission in his infancy, he felt the need to put God's service first in his life. He served for three years as a missionary in Australia.
During his mission, Elder Romney received a life-altering impression. He sat in the library one preparation day and read Doctrine and Covenants 76, the revelation describing the three degrees of glory. As he walked home that night, thinking about what he had read, he was struck by the majesty of the stars and determined right there and then to always make his decisions with eternity in mind.
After returning from Australia, Marion G. Romney worked construction in Salt Lake City for his uncle. He then attended Brigham Young University to study. There, he courted Ida Jensen, whom he had met in Idaho when she was hired as a teacher at Ricks Academy. She was a then a post-graduate student at BYU who graduated as the valedictorian of her class. Ida and Marion were married in September 1924 in the Salt Lake Temple. Together they endured loss and grief; two of their three children died in infancy. They later adopted another child, and both of their sons, Richard and George, along with their families, were Marion G. and Ida Romney's greatest sources of joy.
Marion G. Romney continued his studies at the University of Utah, where he graduated in 1926 with a bachelor's degree in political science and history. He also studied law at the University of Utah, earning an LLB degree and passing the bar exam in 1929. Through all of his college years, Marion G. Romney continued to work full time to provide for his family. He also received an honorary doctor of laws degree from BYU in 1975.
As a public servant, Marion G. Romney first worked for the post office before later becoming an assistant prosecuting attorney in Salt Lake City. He then campaigned and won a seat in the Utah House of Representatives in 1934. He served only one term, after which he decided not to run again, instead answering the call to serve as a bishop.
In 1941 Marion G. Romney was called as one of the first five assistants to the Quorum of the Twelve. As a bishop and stake president, Elder Romney had implemented key welfare programs to help the people he served become self-sufficient in the economically trying time of the Great Depression. These programs, such as food storage and a bishop's storehouse for the needy, were noticed by the Church, and Elder Romney was asked to serve as the assistant managing director of the Church Welfare Program. He worked with the general welfare program for over twenty years.
Ten years after his call as a general authority seventy, Elder Romney was called as a member of the Quorum of the Twelve Apostles. He helped to develop the home teaching program of the Church and to further the initiative for families to hold Family Home Evenings each week. He was also appointed area supervisor for the Church in Mexico in 1961, where—after diligently studying Spanish—he oversaw the construction of meetinghouses and the organization of the first Spanish-speaking stakes.
Elder Romney began serving in 1972 as second counselor in the First Presidency to President Harold B. Lee; when President Lee passed away, Elder Romney remained as a counselor to President Spencer W. Kimball. Among the milestones of his service in the Presidency, he was part of the First Presidency that announced the Revelation on the Priesthood in 1978.
Elder Romney suffered from poor health for many of his final years. He passed away May 20, 1988 at age 90. At his funeral, he was lauded as a Church Welfare pioneer and a Book of Mormon scholar. Having spoken many times from the BYU pulpit, his testimony is remembered well.
---
---