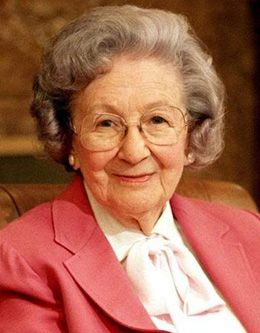 Marjorie Pay Hinckley
Full of quiet, optimistic courage, Sister Marjorie Pay Hinckley has blessed the world over with her testimony and example. Though she was known to millions of members of The Church of Jesus Christ of Latter-day Saints as the wife of a prophet, those whose lives she impacted the most knew her as a wife, sister, daughter, mother, and grandmother.
Marjorie Pay Hinckley was born November 23, 1911 in Nephi, Utah. Her family moved to Salt Lake City while she was young. She attended East High School and graduated 1929. A bright and intelligent girl who loved to learn, she enrolled as a freshman at the University of Utah. However, the Great Depression hit hard, and her father lost his job. Always putting family first, Marjorie decided to forego additional schooling and instead worked as a secretary to support her parents and five younger siblings. Still determined to educate herself, she read voraciously. Her passion for learning was later instilled in her family and she found many opportunities throughout her life to learn and teach.
As a young woman, Marjorie became friends with a young man who lived across the street named Gordon Hinckley. They grew in their interest for each other, and found it very hard to leave one another when he accepted a call to serve a mission in England for the Church. Later, however, Marjorie remarked that she knew Gordon loved her, and that she would always come second in his life—above all else, but second to the Lord. She felt secure that he was the kind of man to always put the Lord first.
When he returned, they resumed their courtship and were married in the Salt Lake Temple on April 29, 1937. They had five children. Sister Hinckley fulfilled her role as a wife and mother with lots of smiles and laughter. Her parenting philosophy was to trust her children—she never said no if she could possibly say yes. Her sense of humor made the whole house happier. She said, "The only way to get through life is to laugh your way through it. You either have to laugh or cry. I prefer to laugh. Crying gives me a headache." As her family grew, her children and grandchildren loved her immensely for her warmth and love of fun. When she passed away in 2004, at the age of 92, she and Gordon B. Hinckley had 25 grandchildren and 41 great-grandchildren.
Sister Hinckley, like her husband, devoted her life to serving the Lord. She began teaching Sunday School at age 17, and served in various Primary, Young Women, and Relief Society callings throughout her life. She spoke and bore her testimony around the world, for large and small audiences, as she accompanied President Hinckley in his travels over 46 years of being a general authority for the Church. She gave him all her support in his callings, and people worldwide were enriched by her words and example. She also wrote three books and was awarded many prestigious honors, including the Exemplary Womanhood Award from Brigham Young University, the Pioneer Heritage Award, the Distinguished Service to Humanity Award, the Utah Heritage Award, and honorary doctorate degrees from BYU and Utah Valley State College. Here at BYU a chair in the College of Family, Home, and Social Sciences was named after her in 2003.
Sister Marjorie Pay Hinckley spoke at BYU twice, in a Women's Conference in 1986 and at a commencement ceremony in 2000. Her warmth, humor, and ability to teach gospel insights clearly and beautifully make her remarks powerful and timeless.
---
---