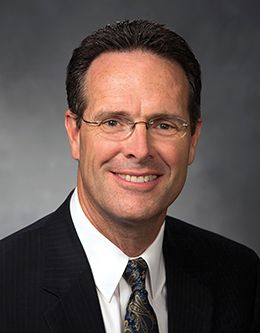 Matthew O. Richardson
Advancement Vice President
Born on December 12, 1960, Matthew O. Richardson grew up in Murray, Utah. He served as a missionary in Copenhagen, Denmark, and enrolled at Brigham Young University upon his return. The promise BYU held for him was evident even on his first day of school, when he was challenged to knock doors at Liberty Square apartments to meet his new ward members. One of them, Lisa Jackson, would later become his wife. Together they revisit Liberty Square each anniversary.
Richardson's journey at BYU had just begun. He earned a bachelor's degree in advertising but after teaching at the MTC, he fell in love with education. He stayed at BYU to earn a master's and a doctorate in educational leadership. From 1986 to 1993, he taught in the Church Educational System. He then began teaching at BYU as a professor of church history and doctrine.
His insight on teaching religion was sought after by the university and the Lord; after being the associate dean of Religious Education at BYU from 2002 to 2006, he was called to the general Sunday School presidency of The Church of Jesus Christ of Latter-day Saints, where he served from 2009 to 2014. During this time, he helped develop the Come, Follow Me curriculum which has revolutionized youth Sunday School classes. In 2014, he was appointed to be the advancement vice president at BYU.
Throughout his years of teaching and study, Richardson has been honored and loved by his students and co-faculty. He was selected by students to receive the Professor of Integrity Award; he also received BYU's Circle of Honor Award and the Robert J. Matthews Excellence in Teaching Award. He has written several books, including The Christus Legacy, The Relationship Seasons, and Personal Promises from the Lord to You.
As impressive as his titles, awards, and publications have been, Richardson's greatest treasure is his family. He says that his wife Lisa possesses more passion, compassion, and faith than Joan of Arc, Mother Theresa, and Esther combined. They have four children and a growing number of grandchildren, and some of his less-well-known talents include making Mickey Mouse pancakes and sewing Halloween costumes. The way he lives his faith with his family is evidence that he practices what he preaches.
Richardson recalls several simple but life-altering moments at BYU. One was a miserably failed Chemistry 105 test that helped him learn never to give up. Another was a chance car ride with Jeffrey R. Holland, then the president of BYU, who picked him up in a rainstorm. After confiding some of his uncertainty about the future, these words from President Holland became a foundation of strength for Richardson: "You just gotta believe, Matt. You just gotta believe." Matthew O. Richardson's testimony of the power of belief is evident in the course his life has taken, as well as in the lives of his many students.
---
---