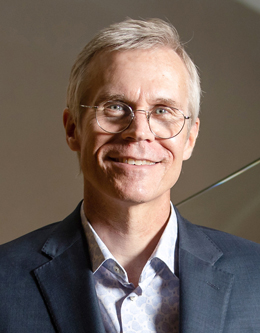 Matthew Wickman
Though a professor of English, Dr. Matthew Wickman is interested in interdisciplinary literary and cultural studies. This is evidenced by his idea to teach a seminar on literature and spirituality, which he was asked to comment on for Deseret News in 2017. Of this endeavor he said, "It's the richest intellectual (and, yes, spiritual) experience I have ever had in the classroom. It has opened new horizons to me as a scholar and helped me better understand how spirituality works."1
Throughout his years of study and research, Dr. Wickman has had a particular tie to Scotland, and he held a joint appointment between BYU and the University of Aberdeen in Scotland before returning full-time to BYU in 2012 to help launch the Humanities Center. He also serves on the editorial board of Studies in Scottish Literature and is a member of the MLA Executive Committee of the Scottish Literature Discussion Group.
Dr. Wickman received his BA  in English from BYU in 1992 and then went on to earn an MA from NYU and a PhD from UCLA, also both in English. He has written over two dozen articles and book chapters, as well as two books to date. Professor Wickman is known on BYU campus for being a brilliant and challenging teacher that stretches students' minds through his thought-provoking questions and engaging critical analyses.
[1] Wickman, Matthew. "Op-Ed: Toward a Latter-Day Saint Sense of Spiritual Learning." Deseret News. Deseret News, December 31, 2017. http://www.deseret.com/2017/12/31/20624684/op-ed-toward-a-latter-day-saint-sense-of-spiritual-learning.
---
---