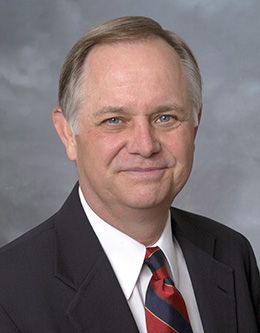 Maurice L. Stocks
While at BYU, Maurice L. Stocks served a professor and as an assistant dean for corporate development and career services in the BYU Marriott School of Management. He has a bachelor's degree in journalism from the University of North Carolina at Chapel Hill and a master's degree in communi­cation from the University of Tennessee at Knoxville. He is also a graduate of the prestigious National War College in Washington, DC.
Maurice Stocks came to BYU as a professor of aerospace studies and head of the air force ROTC program. Among the highlights in his military career, he served as deputy chief of staff for personnel for the Air Combat Command, where he oversaw all human resource functions for more than 250,000 people. A key player in the creation of the air force's highly suc­cessful family support system, he was also the primary architect of its first personnel strategic planning guide.
During his air force career Maurice Stocks served in key personnel, plan­ning, operations, and training posi­tions. He retired as a colonel in 1998. His decorations include the Legion of Merit with one oak leaf cluster, the meritorious service medal with silver oak leaf cluster, and the air force com­mendation medal with three oak leaf clusters.
Maurice Stocks is married to the for­mer Svetlana Lubimov, and they have three children.
---
---