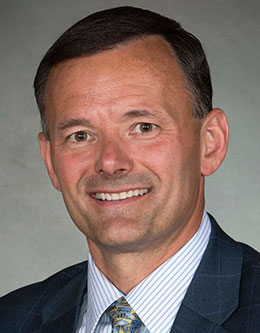 McKay Christensen
McKay Christensen was born on Luke Air Force base in Arizona. His father was a fighter pilot and he grew up in a large family of seven children who learned to work hard on a sod farm. When he was 15 years old, he was run over and crushed by a 14-ton harvester. His recovery, lasting almost a year, was miraculous; he not only learned to walk again, but became an avid runner and has completed the Boston marathon multiple times.
Christensen earned his bachelor's degree in accountancy from Brigham Young University. He also earned a master's in accountancy as well as an MBA from BYU and then received a PhD in education from the University of Idaho. His most cherished memory during those years of study was meeting a girl named Jennifer in a Physical Science 100 class. He and Jennifer are now married and have five children.
Christensen has filled executive leadership positions in several prominent companies, including Procter & Gamble, Holiday Inn Worldwide, U.S. Shoe Corp, and Melaleuca, Inc. (where he was both chief operating officer and president). He has co-authored two books: Open Your Eyes: 10 Uncommon Lessons to Discover a Happier Life and Career Development Basics. Having learned Japanese as a college student, he also lived and worked in Japan. While his leadership roles have kept him on center stage, McKay enjoys leaving the spotlight and taking time for running, fishing, and family activities.
Returning to his alma mater in 2013, McKay Christensen taught business strategy for several years as an adjunct professor in BYU's Marriott School of Management. Since 2015, he has served as the managing director for BYU Alumni and External Relations. In this role, he oversees brand management, alumni relations, university publications, special events, university relations, and licensing and trademark for the university. He is passionate about enhancing the reputation of BYU to extend its vision and mission to a wider audience.
In his devotional at BYU, McKay Christensen shares his testimony of the principle of "laying hold" upon the word—whether that word is found in the scriptures, the advice of a teacher, the pronouncement of a blessing, or the tender expression of a loved one. He shares how his experiences have taught him that when we truly commit ourselves to a principle inspired by the Lord, nothing is impossible.
---
---