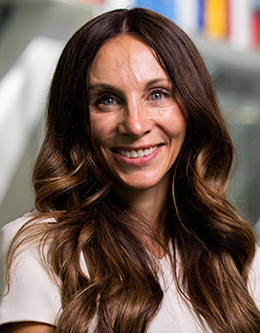 Melissa F. Western
Melissa F. Western was born as Melissa Price in Visalia, California. Her mother raised her to know the Bible and love Jesus. She came from a strong family that taught her the importance of hard work, and accountability, which helped her with her athletic endeavors. Western began pole-vaulting in her sophomore year of high school, and "in that same year, she won the CIF [California Interscholastic Federation] State Championships paving the way for future generations of female athletes."1 She won again the next year, and that was just the beginning of her success. Western's ongoing achievements included winning the 1994 and 1995 National Championships and placing 7th at the St. Petersburg Goodwill Games, all while she was still in high school. Western decided to go to Fresno State for college, where she was inducted into the Fresno Athletics Hall of Fame for becoming the NCAA pole vaulting champion in 1998 and 1999. Western was also later inducted into the USA Track and Field Pole Vaulting Hall of Fame for her outstanding accomplishments. Western paved the way in this sport for the women who would follow her—especially in her high school where they didn't even have a girls' league for pole vaulting when she first participated in track and field. 
Western's academic successes are no less impressive than everything she accomplished athletically, and she credits her achievements in both to the grit taught to her by her family. She first earned a bachelor's degree in accounting from California State University, and then received both her master's and PhD from Indiana University's Kelley School of Business. She was able to finish a PhD while having children at the same time.  Dr. Western worked as an assistant instructor and research assistant at Indiana University while finishing her degree, then taught at the University of Utah before becoming a visiting, then an associate professor at BYU. With over a dozen publications, working papers, and works-in-progress, Dr. Western is making consistent contributions to the field of accounting. 
Despite these accomplishments and being married with two kids, Dr. Western's life was not going the way she hoped. Her marriage of nine years ended, in which she had spent years in spiritual decline. In her July 2021 devotional, she admitted, "my life was a bit of a mess."2 Eventually, Dr. Western returned to the spiritual foundation her mother had given her. She studied the scriptures diligently, and learned to recognize the voice of God more clearly than ever before. She said, "I expressed my complete willingness to walk whatever path was required of me. I told Heavenly Father that if he showed me the path I would 'pre-commit' to taking it. I was prepared to make a covenant."3 Dr. Western's humility led her to receive personal revelation, and eventually, to find her future husband, Marc, who would introduce her to the restored gospel. Her firm resolve to remain close to the Savior brought Dr. Western to the waters of baptism, and a year later she was able to get sealed to Marc in the Salt Lake City temple. 
Dr. Western is known by students in her department as incredibly motivational, describing her teaching style as caring and loving. They recognize the extra time and effort she puts into helping them learning difficult concepts. Her ability to teach well and her willingness to share her testimony make Dr. Western a bright spot of inspiration on BYU's campus. 
[1] Jillian Sasaki, "Melissa F. Lewis-Western: An Inspiration for Generations to Come."  
[2] Melissa F. Western, "Vaulting to Greater Heights: Replacing Fear with Lasting Peace," July 2021. 
[3] "Vaulting to Greater Heights."
---
---