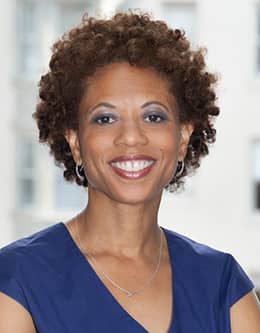 Melody Barnes
Melody Barnes is co-director for policy and public affairs of the Democracy Initiative of the University of Virginia, where she is also Dorothy Danforth Compton professor of practice at the Miller Center of Public Affairs and a distinguished fellow at the school of law. Ms. Barnes was assistant to the president and director of the White House Domestic Policy Council during the administration of President Barack Obama. Prior to her tenure in the Obama Administration, she was executive vice president for policy at the Center for American Progress and chief counsel to the late Senator Edward M. Kennedy of the Senate Judiciary Committee. 
Her experience includes an appointment as director of legislative affairs for the U.S. Equal Employment Opportunity Commission and serving as assistant council to the House Judiciary Subcommittee on Civil and Constitutional Rights. She began her career as an attorney with Shearman & Sterling in New York City. Professor Barnes is narrator and host of the National Endowment for the Humanities supported podcast, LBJ and the Great Society, and co-editor of "Community Wealth Building "And the Reconstruction of American Democracy: Can We Make American Democracy Work?" Which will be published next month, October 2020. She also co-authored "Community Engagement Matters (Now More Than Ever)," one of the ten most popular articles published by the Stanford Social Innovation Review in 2016, and she is a commentator on U.S. Domestic and public policy. 
Currently, Ms. Barnes serves as an independent director on several corporate boards. She is chairperson of the board of directors of the Marguerite Casey Foundation and vice chair of the board of trustees of the Thomas Jefferson Foundation at Monticello and the advisory board of the Institute for Contemporary Art at Virginia Commonwealth University. Ms. Barnes also serves as chair of the Aspen Institute Forum for Community Solutions. She earned her B.A. From the University of North Carolina at Chapel Hill, where she graduated with honors in history, and her J.D. From the University of Michigan. She lives in Richmond, Virginia with her husband, Marland Buckner Jr. One of her favorite quotes is, "What would you do if you knew you could not fail?" And she gets most excited about her work when she knows she is having a positive impact on the lives of the most vulnerable members in our communities.
---
---