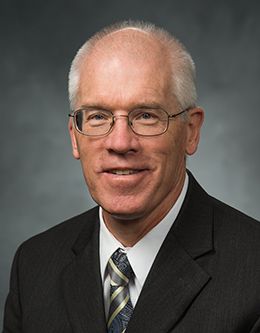 Merrill J. Christensen
Merrill J. Christensen is a profes­sor in the Department of Nutrition, Dietetics, and Food Science and associate director of the BYU Cancer Research Center. He earned his BS in nutrition with a minor in chemistry from BYU and his PhD in nutritional biochemistry and metabolism from the Massachusetts Institute of Technology. He received further training in molecular biol­ogy and oncology at the McArdle Laboratory for Cancer Research at the University of Wisconsin—Madison, where he was a visiting assistant professor. He joined the faculty at BYU in 1982.
Dr. Christensen's research focuses on how dietary components turn on or turn off genes in the prostate to reduce the risk for prostate cancer. Widely published, he has also organized, chaired, and cochaired national and inter­national scientific meetings. He is currently a member of the Chemo/Dietary Prevention of Cancer Study Section of the National Cancer Institute at the National Institutes of Health.
Professor Christensen has served as a bishop, bishop's coun­selor, high councilor, Young Men president, stake missionary, and in various teaching capacities.
Professor Christensen and his wife, Diane, are the parents of six children.
---
---