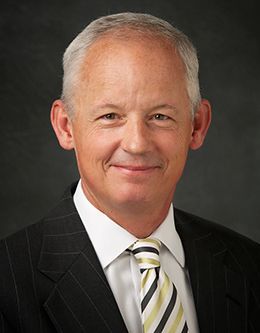 Michael A. Dunn
Managing Director of BYU Broadcasting
Michael Dunn is a respected leader in the communications industry and the managing director of BYU Broadcasting. After graduating from the University of Utah with both his bachelor's and master's degrees in mass communications with a journalism and advertising emphasis, Dunn began his career as a freelance print journalist. He later transitioned to working in broadcasting as a television reporter and producer.
Before taking his communications expertise to the public television industry, Dunn founded Dunn Communications, Inc. He operated the advertising agency and film production company for 16 years. He has also worked as a senior writer and producer for Bonneville Communications and as the general manager of KUED Channel 7, where he oversaw operations of the television station. During this time he worked on projects for the Salvation Army and the national image campaign for Major League Baseball.
Dunn has been managing director of BYU Broadcasting since 2017. BYU Broadcasting began at the end of World War II as a small radio channel, and at that time the channel's radio signal was only strong enough to reach the edges of campus. Today it reaches across the globe to international audiences and offers many television and digital channels, including BYUtv.
Dunn is the recipient of gold and silver medals from the New York Film Festival and has earned an Emmy Award for public service from the National Academy of Television Arts & Sciences. In 2000 he received the Advertising Professional of the Year Award from the American Advertising Federation. He has also won four CLIOs, which are considered the Oscar of the advertising industry.
At the age of 18, Dunn was baptized as a member of The Church of Jesus Christ of Latter-day Saints. In 2014, he and his wife served as president of the South Africa Johannesburg Mission. In his BYU devotional, Dunn speaks about summiting mountainous trials and using those trials for our divine progression.
---
---