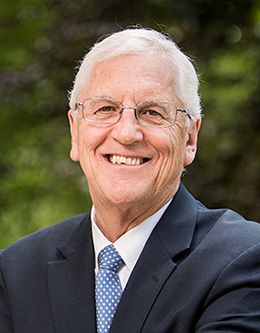 Michael Orme
Michael Orme received a BA from Brigham Young University, graduating summa cum laude in 1975. It was there that he met Dottie, a member of his family home evening group, who would later become his wife. Continuing at BYU, Michael Orme earned a JD from the J. Reuben Clark Law School in 1978.
A member of the bar in Utah and in Idaho, Michael Orme practiced law privately for ten years in Idaho Falls, Idaho. His practice focused on commercial law, general litigation, educational law, and appellate practice. Along with that work came the struggle of running a small business in a small town.
In 1982 Michael Orme accepted an appointment as general counsel for BYU–Idaho, beginning his career in the broad and challenging field of higher educational law. He then moved with his family to Provo in 1990 to serve as the associate general counsel for BYU. After fifteen years in this position, he was appointed assistant to the president, general counsel, and corporate secretary for BYU. He has been working in this capacity for over a decade now, adapting to the changing needs of the university as the world's technology and social climates evolve. His work emphasizes the need to preserve the unique and time-honored mission of the university as it responds to those changes.
In addition to his work as general counsel, Michael Orme has taught as an adjunct faculty member in the J. Reuben Clark Law School as well as in the BYU Marriott School of Business, and has visited and lectured in many other institutions of higher education. He has also taught religion courses at BYU. He has served on the Board of Directors for the National Association of College and University Attorneys and been involved in the American Inns of Court movement. He has also been a director of Utah Community Credit Union and chair of the Idaho Advisory Committee to the United States Commission on Civil Rights. The national Martindale-Hubbell directory rates him "AV," which is the highest rating for legal expertise and ethics.
Michael and his wife Dottie have four children—all of whom are BYU graduates—and many grandchildren. In his BYU Devotional, Michael Orme speaks about the importance of learning to recognize and understand the Spirit, as it relates to both our individual searches for revelation and to the unique mission of this university.
---
---