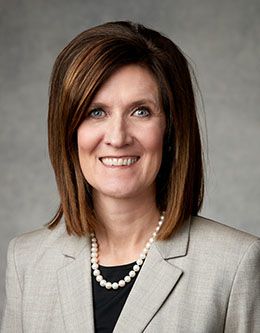 Michelle D. Craig
Throughout her life, Sister Michelle D. Craig has been blessed by and through missionary service. While in high school, Sister Craig and her family moved across the country from Utah to Pennsylvania when her father was called to serve as a mission president. Adjusting to life in a new place was difficult, but the experience helped grow her testimony as she focused on building her relationship with her family and with the local missionaries. She worked with these missionaries often, inspired by their example and supported by their encouragement.
Sister Craig took these examples with her when she later served in the Dominican Republic Santo Domingo Mission in 1984. Again, adjusting to a new lifestyle was difficult, but through missionary work she fell in love with the people and built many strong relationships. Her testimony of the Restoration was strengthened through this opportunity to teach the gospel and testify to the people she met.
The blessings of missionary service continued to impact her life when she returned to Provo to continue her degree at Brigham Young University. Shortly after coming home, Michelle's brother set her up on a date with a close friend of his, Boyd Craig. Boyd and Michelle's brother met during their missionary service. Boyd and Michelle were sealed in December of 1986 in the Salt Lake Temple, and together they are the parents of three children. Sister Michelle Craig also holds a bachelor's degree in elementary education, which she received at BYU.
Throughout her life, Sister Craig has served faithfully in the Church, in her community, and in her family. Although this service has often been tiring and discouraging, she has used her experiences to set an example for the youth of the Church as a member of the Primary general board and as the First Counselor in the Young Women General Presidency. In her BYU devotional, "This is My Day of Opportunity," she talks about the challenges that have come through her service as well as how we can use our own challenges to build our character, draw on strength from covenants and ordinances, and deepen our family relationships.
---
---