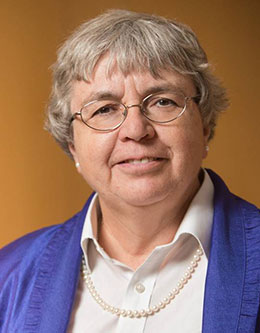 Michelle Stott James
Michelle Stott James was born in Ogden, Utah. Her early years were filled with the study of music, with particular emphasis on piano and violin. She started as a music major at Weber State College, but, after a mission to Finland, she completed her undergraduate major in German. She has a PhD in German literature with a minor in philosophy from the University of Utah.
Since she joined the BYU faculty in 1988, she has taught numerous courses in literature, writing, and critical theory. After the publication of her first book, Behind the Mask: Kierkegaard's Pseudonymic Treatment of Lessing in the "Concluding Unscientific Postscript," Dr. James turned her research interests to early German-language women writers. With her colleague Joseph O. Baker, she founded the Sophie Project, with the goal of collecting hard-to-access texts by early women authors and making them available in modern format.
This undertaking has developed into the Sophie Mentored Research Project, which has engaged numerous students in textual preparation, editing, and research on more than 2,000 early women's texts and musical compositions, which are now freely available to users in the Sophie Digital Library of Early German-Language Women's Work (sophie.byu.edu).
Dr. James served for several years as the German section head and then as chair of the Department of German and Russian from 2010 to 2016. In 2002 she married John James, who brought with him three stepchildren to grace her life.
---
---