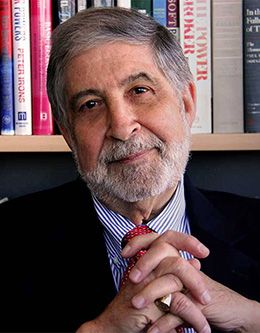 Mickey Edwards
Mickey Edwards, vice president of the Aspen Institute, serves as director of the institute's Rodel Fellowships in Public Leadership. Edwards was a member of the U.S. Congress from Oklahoma for fifteen years, after which he taught at Harvard University's John F. Kennedy School of Government for more than a decade. At Harvard he was the John Quincy Adams Lecturer in Legislative Practice; he was also a lecturer at Princeton's Woodrow Wilson School of Public and International Affairs. He is one of the founding members of the Heritage Foundation, a conservative think tank in Washington, D.C.
Edwards is the author or coauthor of four books, his most recent being The Parties Versus the People: How to Turn Republicans and Democrats into Americans, published by Yale University Press. Early in his career Edwards was a newspaper reporter and editor; he later worked in advertising and public relations and as a magazine editor. As a regular political commentator, he has appeared on National Public Radio's All Things Considered and has written weekly political columns for the Chicago Tribune and the Los Angeles Times, as well as for other major newspapers. His articles have appeared in magazines ranging from the Atlantic to the Public Interest. As a frequent public speaker, he has been a guest on many of the nation's leading radio and tele-vision news and opinion broadcasts.
Edwards received a BA in journalism from the University of Oklahoma and a JD from Oklahoma City University School of Law.
---
---