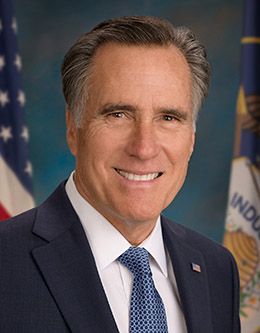 Mitt Romney
As Mitt Romney stepped onto the nation's center stage during the 2008 and 2012 United States presidential elections, he was known for being a businessman, a family man, the governor of Massachusetts, and a member of The Church of Jesus Christ of Latter-day Saints.
Willard Mitt Romney was born on March 12, 1947, in Detroit, Michigan. The son of former Michigan governor George W. and Lenore Romney, he attended Cranbrook School, a private preparatory school for boys, where he participated in a number of clubs and the pep squad, managed the ice hockey team, and joined the cross-country team. Upon graduating from Cranbrook School in 1965, Romney attended Stanford University for one year before serving a mission in France. While there, morale was already low, but became even more so when the mission president's wife died in a tragic car accident. Romney, then assistant to the mission president, visited all of the companionships to inspire hope, which in turn boosted the success of the missionaries. Despite the challenging circumstances, Romney grew to love France and its people.
When he returned home, Romney reconnected with Ann Davies, his high school sweetheart. Ann had been baptized into the Church while Romney was in France, and the two were married in Bloomfield Hills, Michigan, on March 21, 1969. The next day they flew to Utah and were sealed in the Salt Lake Temple. Mitt and Ann Romney are the parents of five sons.
Romney continued his education at Brigham Young University, graduating with highest honors with a bachelor's degree in English in 1971. He had always wanted to pursue a career in business, but his father advised him that a law degree would also be valuable. Consequently, Romney enrolled in the joint juris doctor and master of business administration program at Harvard. In 1975 he graduated in the top five percent of his business school class, cum laude from law school, and was named a Baker Scholar.
Following his graduation, Romney began a long and rewarding business career. He joined the Boston Consulting Group and worked as a management consultant. Two years later he was hired by Bain & Company, another managing consulting firm. He became vice president of the firm in 1978. In 1984 Romney ventured into private equity by cofounding the spinoff Bain Capital. He worked there until February 1999 when he took a paid leave of absence to serve as the president and CEO of the 2002 Salt Lake City Olympic Games Organizing Committee. Although earlier shrouded in scandal, Romney rescued the Winter Games from financial and ethical troubles, transforming it into a success.
Post Olympics, he pursued a career in politics. This was familiar territory to Romney, as his family was heavily involved: his father ran many political campaigns; Romney helped his mother during her campaign for U.S. Senate in the 1970s; and Romney himself had run for the Senate in 1994 (defeated by incumbent Ted Kennedy). Romney was elected the 70th governor of Massachusetts in 2003 and served a four-year term, landmarked by bringing near-universal health insurance to the state. He decided not to seek re-election and on the penultimate day of his term, he announced his bid to run for the United States presidency.
In 2008 Romney won the primary election in five states before losing the Republican nomination to Senator John McCain of Arizona. Romney ran again in 2012, this time emerging as a Republican frontrunner, with U.S. Representative Paul Ryan of Wisconsin as his running mate. Romney became the Republican party's official presidential nominee, garnering more than 47 percent of the vote in a close but unsuccessful race.
During his presidential campaigns, Romney's life was scrutinized in the spotlight, while his faith and the Church extensively discussed by the media. Although he was careful to keep doctrine out of debates, Romney's faith was an integral part of his foundation that kept his spirits high during trying times on the campaign trail.
Romney's devotional address at his alma mater, Brigham Young University, centered around the lessons that he learned balancing politics, family, and faith.
---
---