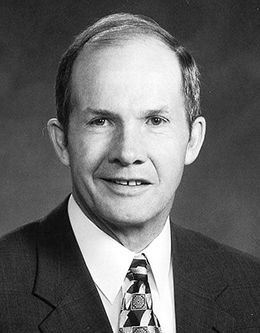 Monte J. Brough
Elder Monte J. Brough was origi­nally called to the First Quorum of the Seventy in 1988.  As a General Authority, his assign­ments included serving in the Presidency of the Seventy, as presi­dent of the North America Southeast Area of the Church, counselor in the North America Central Area, execu­tive director of the Family History Department, president of the Genealogical Society of Utah, coun­selor in the Young Men's general presidency, and president of the Asia Area.
Prior to being called as a General Authority, Elder Brough served as a regional representative to the BYU student stakes. He has been a bishop, Young Men's general board member, and president of the Minnesota Minneapolis Mission.
Born in Randolph, Utah, Elder Brough graduated from the University of Utah with a degree in mathematics and obtained a PhD from the University of Utah in busi­ness administration. A former com­puter systems engineer, he founded a multinational computer services company from which he retired just prior to his service as a mission presi­dent. At the time of his call to the Seventy, he was teaching a business strategy course at BYU.
Elder Brough was founding presi­dent of the United Way of Davis County and served on the Farmington Utah City Council. He has also served in various Scouting and community organizations.
---
---