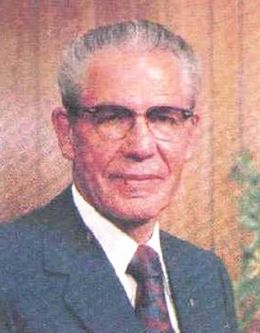 N. Eldon Tanner
The defining feature of President N. Eldon Tanner—mentioned by presidents of the Church, government officials, and even royalty—was his unwavering integrity. Raised the oldest of eight children on a farmstead in Aetna, Alberta, Canada, he was a child who took to his responsibilities with a faith and dedication that he would later weave into every aspect of his life.
After finishing his education, President Tanner began working as a teacher near his family's homestead. He took undisciplined and idle boys under his care and introduced them to boxing, wrestling, basketball, and the Scouting program. His work resulted in a complete change in the boys and sparked in President Tanner a lifelong loyalty to the Scouting program.
After teaching for a few years and being sealed to his sweetheart, Sara Isabelle Merrill, the Great Depression demanded that the small family begin to diversify. President Tanner bought a small general store and post office and turned it into one of the few profitable businesses of the time. It was at this time that he also began a successful political career as a council member on the Cardston Town Council.
A new and growing political party in the province noticed his work and integrity, and they chose President Tanner to become their new head. This office quickly escalated to a position as the speaker of the Alberta Legislative Assembly and later as a cabinet minister for two Alberta premiers. Through President Tanner's management of Alberta's portfolio of natural resources, the province became one of the first in Canada to become free of public debt.
President Tanner's successful political and business career was painted by his admonition to first seek the kingdom of God. While serving in various secular positions and offices, President Tanner also served as a bishop, branch president, high councilman, and stake president. His consecration to the Lord never wavered, even when work made it necessary for him to commute across Canada every weekend to fulfill his calling.
In 1960, N. Eldon Tanner was called to serve as Assistant to the Quorum of the Twelve Apostles, then as an Apostle in 1962. His family moved from Edmonton, Alberta, to Salt Lake City, and he shouldered his new responsibilities with the same signature integrity and consecration that he exemplified in so many other callings. In 1963, he was called into the First Presidency and remained there until his death in November 1982.
Upon President Tanner's death, the First Presidency issued a statement that summarized his exemplary life: "None has been more steadfast in carrying the responsibilities of high office. None has been more faithful in the execution of duty."
---
---