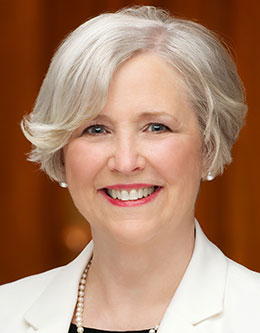 Neill F. Marriott
Former Second Counselor in the Young Women General Presidency of The Church of Jesus Christ of Latter-day Saints
Sister Neill Foote Marriott was born in October 1947. Her parents, George and Antonia Foote, raised Sister Marriott and her six younger brothers in a Christ-centered home in Alexandria, Louisiana. Sister Marriott attended Southern Methodist University in Dallas, Texas, and graduated with a degree in English literature and secondary education. 
It was during her time there that she met David Cannon Marriott, who invited her to meet with missionaries from The Church of Jesus Christ of Latter-day Saints. Sister Marriott felt the Spirit testifying that the gospel the missionaries taught her was true, and she was baptized into the Church in May 1970. 
Following her baptism, Sister Marriott remained friends with David. A year after her baptism, they began dating, and the two eventually married in the Salt Lake Temple in June 1971. After they got married, David pursued a career in business while Sister Marriott chose to stay home and care for their children. They are now the parents of eleven, grandparents to forty-four, and have two great-grandchildren. 
Sister Marriott has served in a variety of Church callings. From 2002 to 2005, she and her husband served together as mission leaders of the São Paulo Interlagos Mission. Sister Marriott has also been an ordinance worker in the Salt Lake Temple, a stake Relief Society president, ward Relief Society president, ward Young Women president, gospel doctrine teacher, and food storage specialist. 
In April 2013, Sister Marriott was called as the second counselor in the Young Women General Presidency. After years of faithful service, she was released from her assignment on March 31, 2018. 
---
---