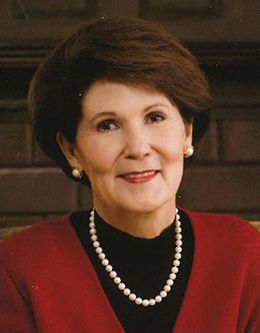 Patricia T. Holland
Patricia T. Holland, born Patricia Terry, considered herself "a genuine farm girl" hailing from the tiny town of Enterprise, Utah. Her upbringing on the family farm consisted of milking family cows with her five brothers, driving a pickup truck, and missing school to gather potatoes every October. This was a stark contrast to what she experienced when, at age 16, she and her family moved to the larger city of St. George, Utah.
While attending Dixie High School, Patricia met "the smartest boy in school, who was also a terrible tease, and even though [she] couldn't stand him at the time, [she] had the strangest feeling, even then, that, when [she] was older, [she] would marry him." That boy was Jeffrey Holland, the academic and athletic all-star. Patricia caught his eye, and the two began dating. Two years into their courtship, Jeffrey was called to serve in the British Mission. While he was away, Patricia studied at the LDS Business College and Dixie College. Thirty days after his return, the two were engaged.
However, the very day after their engagement, Patricia flew to New York to study music at The Juilliard School. Their love endured, despite their prolonged separation, and on June 7, 1963, they were married in the St. George Temple. Patricia and Jeffrey later became the parents of three children—Matthew, Mary Alice, and David—but in 1980, their parental influence grew exponentially when Jeffrey was appointed to be president of Brigham Young University.
For nine years Sister Holland served as the "First Lady" of BYU, and during her tenure she also spent two years (1984-86) as a counselor in the Young Women General Presidency. In her many addresses (available through BYU Speeches), it is apparent how much pleasure she took in forming strong, familial bonds with the student body as she encouraged students to live up to their potential without fear of their insecurities, inadequacies, or weaknesses. Her humor, storytelling abilities, and genuine love for BYU and her family shone through her words, making all of her addresses memorable and meaningful.
Patricia Holland said that she secretly aspired to play the drums in a rock band, and although that dream was not realized, she accomplished several other impressive achievements: her book A Quiet Heart was the recipient of the Association for Mormon Letters Award in 2000, and in 2012 she was awarded the Distinguished Alumnus Award from LDS Business College. Sister Holland passed away on July 20, 2023. Throughout her life, Sister Holland was a positive influence for many as she shared her testimony of the gospel alongside her legacy of service.
---
---