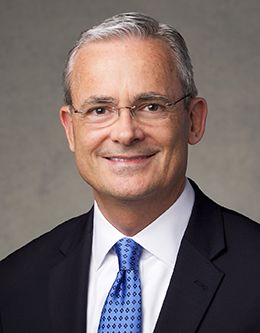 Patrick Kearon
of the Presidency of the Seventy
Elder Patrick Kearon was born in England in 1961 and was raised in the United Kingdom and the Middle East, where his father worked in the oil industry. When he was 10 years old, he attended boarding school in England while his parents remained in Saudi Arabia. This separation was an enormous trial, and he remembers the joy that he felt when the mail came in the mornings and he was able to hear from his parents. He has recalled this experience often, drawing a parallel with our Heavenly Parents—no matter how far we are from our heavenly home, our Father in Heaven is always reaching out to us.
Elder Kearon began his professional career working for a member of Parliament. His career took him to the Middle East while working for Nestle, then back to England, and eventually to the United States where he lived in California. He also ran his own communications consultancy and was active in civic and community service as a member of the board of several charities as well as an enterprise agency and a college.
When Elder Patrick Kearon was first introduced to The Church of Jesus Christ of Latter-day Saints, he was a young man living with a member family in California. He was impressed with the family's lifestyle and the feeling inside their home, but he did not join the Church at that time. Two years later, he had a chance meeting with LDS missionaries on the street in England. It was then that he began learning more about the gospel, and on Christmas Eve of 1987, Elder Kearon was baptized a member of The Church of Jesus Christ of Latter-day Saints.
Shortly after his baptism, Elder Kearon met Jennifer Hulme, a BYU student who was visiting London on a six-month study abroad for art history and English literature. They were married in the Oakland California Temple in 1991 and then lived in England for 19 years before moving to Utah to fulfil the call to become a general authority. They have four children: Sean, who passed away at only three weeks old, Lizzie, Susie, and Emma.
In the Church, Elder Kearon has served as a stake president, an assistant ward clerk, a branch president, and an area seventy. He served in the Europe Area as a member of the third quorum of the seventy and was named a member of the presidency of the seventy in 2017. In this capacity he supervises the North America West and Northwest Areas as well as the Europe and Europe East Areas. His service in the Church has spanned many years and touched countless lives.
---
---