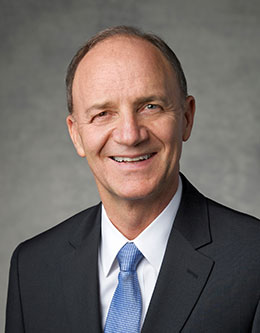 Paul B. Pieper
Paul B. Pieper, a General Authority Seventy of The Church of Jesus Christ of Latter-day Saints, was born in Pocatello, Idaho, far from where his career and dedicated Church service would eventually take him. Pieper learned how to work hard early in life through years spent diligently supporting the family farm. When he wasn't on the farm, young Elder Pieper was usually at a Church function. His family became firmly rooted in the gospel with the conversion of his great-grandfather who immigrated to the United States in 1901. When he reached missionary age, Elder Pieper left to serve as a full-time missionary in Monterrey, Mexico, where he shared the blessings he'd been given, an endeavor that would continue far beyond his young adult years.  
After his mission, Elder Pieper earned his bachelor's degree in political science at the University of Utah. He later received his law degree from the same university. During his schooling, Elder Pieper also married Melissa (Lisa) Tuttle, whom he has now been married to for over 40 years. Together they have six children. 
Throughout their marriage, Elder and Sister Pieper have been leaders and pioneers for the Church and have also had the privilege of serving with many pioneering members wherever they have lived. Most of the calls to serve that Elder Pieper has received came as a result of a career that took him to various parts of the world, including Latin America, Asia, and the former Soviet Union. Elder Pieper has been a high councilor, a counselor in a stake presidency, and president of the Russia St. Petersburg Mission (2004–2005), the role he was serving in when he was called to the Seventy. A few years after that calling, he had the special experience of presiding over the dedication of the Kyiv Ukraine Temple. He also "became the branch president and the first-ever leader of the Church of Jesus Christ in Kazakhstan" after "a temporary professional assignment to Kazakhstan evolved into a permanent position and a new home for the Piepers and their children."1 Speaking of his experience with serving in Kazakhstan and in Mexico as a missionary, Elder Pieper said, "These people have so much faith. To do what they do in these countries, at this time, is just amazing. To give up what they give up. And commit to do what they commit to do. And to serve the way they serve. These are Zion's Camp people."2 
It is easy to see how influential Elder Pieper's missionary and pioneer experiences have been in his life by reading the devotionals and general conference addresses he has given since his call to the Seventy. In his first general conference talk, "The First Generation," he gave encouragement to the modern-day pioneers in the Church across the world. He said, "At times you may become discouraged, wondering if it is all worth it. My purpose . . . is to assure you that it is." He went on to describe the experience of a convert named Chris, whose example has blessed generations, and then said, "One small decision by a first-generation member [makes] a difference for thousands."3 
Elder Pieper currently serves as the president of the North America Southwest Area, where his zeal for the gospel of Jesus Christ is felt through his loving service. 
[1] "Paul B. (Bowen) Pieper."
[2] "Paul B. (Bowen) Pieper."
[3] Paul B. Pieper, "The First Generation," Oct 2006.
---
---