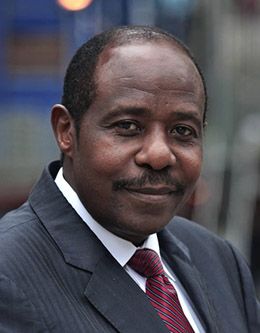 Paul Rusesabagina
Paul Rusesabagina is the former general manager of the Mille Collines Hotel in Kigali, Rwanda. He grew up on a farm in the town of Murama about 50 miles south of the capital. He was educated at the Faculty of Theology in Cameroon and studied hotel man­agement at Kenya Utalii College in Nairobi.
In 1984 Rusesabagina became assistant general manager of the Belgian-owned Mille Collines. In November 1992 he was promoted to general manager of the nearby Diplomat Hotel. Confronting killers with a combination of diplomacy, flat­tery, and deception, he managed to shelter more than 1,200 Tutsis and moderate Hutus in his hotel, while homicidal mobs raged outside with machetes during the Rwandan geno­cide. Finally, threatened with harm for his role in shielding the Tutsis and moderate Hutu from near-certain death, he sought asylum in Belgium and found work driving a taxicab.
No Ordinary Man is his autobiog­raphy, telling the story of the life that was made famous by Oscar-nominated Don Cheadle in the film Hotel Rwanda. The book relates the events of the 100 days that he sheltered the refugees and also explores Rusesabagina's inner life as he discusses the racial complex­ity within his own life—he is a Hutu married to a Tutsi.
On November 9, 2005, Rusesabagina was awarded the U.S. Presidential Medal of Freedom by President George W. Bush.
Rusesabagina now owns a trucking company operating in Zambia and lives with his wife, Tatiana, and their four children in a suburb of Brussels.
---
---